Michele Bachmann is taking the age-old myth of the diseased immigrant and making it very, very specific. She says that the relatively recent outbreak of cases of acute flaccid myelitis, a polio-like virus, in several states is caused by undocumented immigrants. Her evidence for this? I hope that's a rhetorical question. Since when did Bachmann want or need evidence for any claim?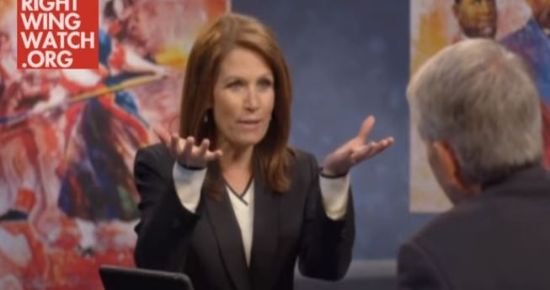 Former Minnesota congresswoman and current Religious Right "pastor to the United Nations" Michele Bachmann appeared on Jan Markell's "Understanding The Times" radio program yesterday, where she blamed the outbreak of a polio-like virus in the United States on undocumented immigrants.

Dozens of children in several states have been diagnosed this year with acute flaccid myelitis, a virus that can leave children with muscle weakness or paralysis, and Bachmann declared that it is happening "because literally millions of people are coming into the United State illegally."
And yet many of those cases are in places like Minnesota and Washington, not exactly hotbeds of illegal immigration. Does she not think the CDC is tracing the origins of this disease and trying to figure out where it's coming from? If she has evidence that it's coming from immigrants, she should give that information to the CDC. If she doesn't — and she doesn't — she's just engaging in more anti-immigrant bigotry.