A police department in Opp, Alabama is violating the Establishment Clause by using its social media accounts to endorse Christianity and blame violent crime on people abandoning God and embracing Satan. No government agency has any authority to make such declarations in a secular nation. The message they posted on Facebook: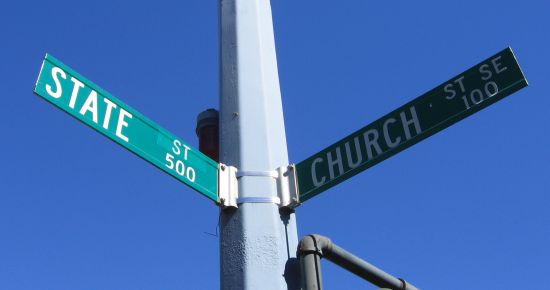 THIS PAST SUNDAY, A YOUNG MAN WAS SHOT AND KILLED IN KINSTON. MONDAY NIGHT, A MOTHER WAS SHOT AND KILLED IN NORTHERN COVINGTON COUNTY. THERE HAVE BEEN FIVE MURDERS IN COVINGTON COUNTY IN 2018. THESE MURDERS HAVE BEEN DONE BY OUR YOUNG PEOPLE. THIS IS HAPPENING BECAUSE WE HAVE TURNED AWAY FROM GOD AND EMBRACED SATAN. WE MAY HAVE NOT MEANT TO DO SO BUT, WE HAVE. IT IS TIME TO ASK FOR GOD'S HELP TO STOP THIS. IT IS TIME TO BE PARENTS AND RAISE OUR CHILDREN, NOT HAVE THEM RAISE US. IT IS TIME TO FULLY SUPPORT LAW ENFORCEMENT AND STAND BY THE OFFICERS AND DEPUTIES THAT ARE FAR TOO OFTEN HAVING TO WALK INTO THESE DANGEROUS SITUATIONS AND CLEAN UP THE MESS. FRIENDS, IT IS TIME TO STAND UP AND BE RESPONSIBLE, GROWN UP LEADERS IN OUR COMMUNITY. BOTTOM LINE, THERE ARE SHEEP; THERE ARE WOLVES AND THERE ARE SHEEP DOGS. WHICH GROUP DO YOU BELONG TO ?
I belong to the group that says this is utter nonsense and blatantly unconstitutional for any government agency at any level to say. People aren't sheep or wolves, they are people and responsible for their own behavior. Blaming it on some non-existent celestial demon is not just absurd, it's something you have every right to privately believe but no right to claim is true as an agency of the government. The Freedom From Religion Foundation has gotten involved. That police department needs to be put in its constitutional place, and quickly.