In interview after interview, Trump has made a big deal out of claiming that Deputy Attorney General Rod Rosenstein told him that he is not a target of the Mueller investigation, as if that proved that he hadn't done anything wrong even if some people around him did. He either misunderstood what Rosenstein told him or he's distorting that fact to make it more meaningful than it actually is.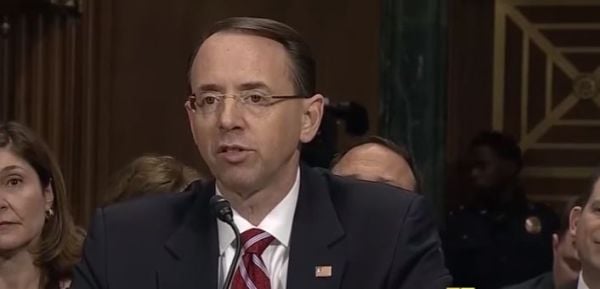 In the interview, Trump says Rosenstein has made clear to him that he is "not a subject" of Robert Mueller's investigation into Russian interference in the 2016 election.

"He told the attorneys that I'm not a subject, I'm not a target," Trump said.

"Rod told me I'm not a target of the investigation," the president added, while suggesting he had not spoken with Rosenstein directly. "The lawyers ask him. They say, 'He's not a target of the investigation.' "
I don't doubt that Rosenstein told him that, but it simply doesn't mean what Trump wants people to believe it means. Not being a target means he isn't going to be criminally indicted, but that is simply a matter of DOJ policy. The DOJ has long maintained that a sitting president cannot be charged with a crime and Mueller is subject to that ruling (and probably agrees with it anyway). So not being a target just means that, it doesn't mean that the investigation won't find that he did something wrong, or even that he broke the law, only that he can't be charged with it.