Why are the people who deny the existence of scientism the best examples of scientism?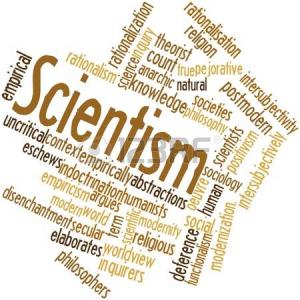 On another blog here at Patheos last week, a poster objected to the notion of scientism and closed his response by demanding the following:
And please describe another method of gaining knowledge than science.
So let's get this straight: you object to the implication that people believe science is the sole source of valid knowledge about the world, but then you make it seem like it's freakish to believe there are other methods of gaining knowledge?
Being Uncritical About Science
Scientism is generally defined as the bias that privileges scientific knowledge above all other forms of knowledge and asserts that only science describes how reality is. People afflicted with this bias feel that all facets of human endeavor should be approached scientifically, and that forms of inquiry have to be judged against science for validity. Pointing out the bias of scientism isn't saying that science doesn't give us valid knowledge about the world; it's acknowledging that there are other sources of knowledge.
In response to the poster above, I said that most of what we know about the world derives from sense experience and a vaguely coherent process of reasoning. I mentioned that I "know" Roy Moore lost his Senate bid, but that this knowledge was gained just by seeing many media outlets report the story, and assuming that it's more likely the reports are true than that there's a worldwide media conspiracy to make people believe a complete fiction. It's not like I conducted rounds of formalized empirical testing or anything.
Furthermore, the arts and literature are valid sources of knowledge about civilizations, social attitudes, and the cultural meaning of historical events. These are different from scientific analyses of history or culture, even though they may be included in such analyses.
I'm not trying to say that we can study black holes or ancient glaciation events strictly through individual perception and reasoning. I'm not saying that ancient poetry is a true and complete description of historical events. That's measuring the worth of a source of knowledge by how well it fulfills the function of science.
Nonsense and Non-Science
My correspondent assessed my responses as follows:
The work of artists in a particular society can help to inform later generations in describing that zeitgeist, but can not be taken by themselves to be accurate representations of that society. However, even if you're using historical art for that purpose, the art didn't generate any knowledge of the society, it was only a vehicle used to convey what was already established at the time.

What I think is that we have knowledge, and we have belief. From time to time, we confuse the latter for the former. We all do it and there's no way to escape it. We can only critically evaluate the things we think we know, and there is only one reliable way to separate the wheat from the chaff.
First off, art and literature aren't intended to be "accurate representations," but the information they convey about meaning, ethics and values is not what we can produce through science. Aside from that, saying that there's "only one reliable way" to generate valid knowledge is the dictionary definition of scientism. It's assuming that objective facts about phenomena are the only things that are real, and that matters that deal with culturally-constructed facets of human endeavor, and issues of value and meaning, are somehow irrelevant or imaginary.
Culturally constructed truths are valid knowledge too. If you live in Hartford, Connecticut, but I tell people you live in Massachusetts, I'm wrong.
Objectively
wrong. We can't scientifically detect the Connecticut-ness of the territory, but it's not like the borders between states don't exist simply because they're products of human endeavor. The play
Hamlet
is a product of human imagination and effort too; however, if I say that my cousin Keith wrote it, that there's a rap break in Act 2, or that the lead character is a lizard, I'm wrong. 
Objectively
 wrong.
The poster continued by asserting that personal consciousness is not valid knowledge because, once again, it's not science:
The way that one person sees the world, while interesting, doesn't necessarily impart any knowledge about the world.
However, it does indeed impart knowledge. It tells us what that person experiences and the meaning they attribute to it. That knowledge won't put a human being on Mars, but it's valid knowledge about its object domain.
Science is Better Than Religion, and What Isn't?
Lastly, the poster dismissed the entire idea of scientism as some sort of fundie lawyertrick:
The word scientism is a load of bullshit thought up by religionists to try to defend religion from attacks brought against it from a scientific perspective. And for some reason, some members of the athiest community have glommed on to the concept because…well I'm not really certain why, to tell you the truth.  The only reason I can come up with is that they don't have any hard data on their positions.
The first problem here is that there's nothing religious in my argument, or in the arguments of writers like Massimo Pigliucci and John Allen Paulos who have described the phenomenon of scientism. However, the more significant problem is that we amateurs don't, indeed, have hard data for the things we believe. We're relying on the expertise of scientists when they tell us, for instance, that light can be both a wave and a particle, or that the universe just prior to the Big Bang was an infinitely dense singularity; we can only understand these concepts on an anecdotal level, and we probably wouldn't be able to understand the hard data even if we were privy to it. This reliance may be extremely prudent and realistic, but it still can't be gainsaid that it's different from having hard data to back up our confidence.
People are reluctant to admit the extent to which we idealize science and turn it into the Answer for Everything, another comforting myth that true skeptics or freethinkers should examine with a critical eye.
What do you say? Is science our only source of valid knowledge? Is scientism a legitimate bias, or is it just self-evidently true?