Here's an example of a famous image that tells us more about the way we see ourselves than about human evolution: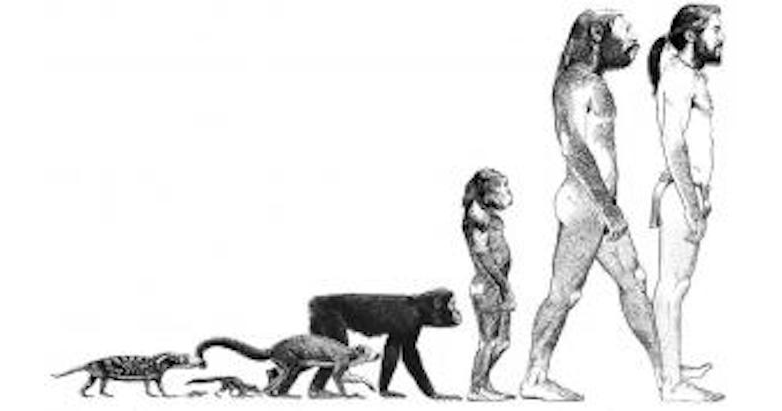 There must be thousands of these illustrations, maybe millions if you count the comic-strip parodies of the meme. No one at Driven to Abstraction disputes the evolution of humans from the same ancient ancestors as all life on Earth. However, the "March of Evolution" illustration isn't really illustrating anything about human origins. What it shows us is how oversimplified and self-serving our view of natural history is.
Evolving Toward Perfection
First off, this is only half the story. Evolution doesn't end with all-important Homo Sap. Secondly, the notion that these particular species were ancestral to humans is speculation; there's no way to know whether the extinct species of whom we find fossils were truly our ancestors or simply related to them. (Frankly, the fourth of our ancestors in the line looks way too much like Curious George for my liking.) Moreover, even if we assume that these are ancestral to humans, these previous species —whether ancient aquatic creatures or more recent hominids— weren't just test runs for humanity. They weren't going "toward" human form in the sense that this diagram implies. Even though we're aware that evolution has no direction or purpose, we still talk about humans being "more evolved" than other life forms or our ancestors.
White Man's Evolution
Most importantly, there's a lot of prejudice in this sort of image that we don't notice until someone points it out: the end result is always a white man. Dark-skinned men and all women have also evolved from nonhuman ancestors, but these images always put a white guy at the end (right in front of the slightly darker-skinned proto-human), implying that white males are the pinnacle of evolutionary development.
It depicts nothing but the pop culture caricature of evolution, that makes us as important as we think we are in the scheme of things. My hero, the late great paleontologist and science writer Stephen Jay Gould, discusses the problems with these sorts of caricatures in this video, starting at the 31 minute mark:
In his essay "The Iconography of Expectation," Gould wrote:
The familiar iconographies of evolution are all directed—sometimes crudely, sometimes subtly—toward reinforcing a comfortable view of human inevitability and superiority. […] The march of progress is the canonical representation of evolution—the one picture immediately grasped and viscerally understood by all. […] The straitjacket of linear advance goes beyond iconography to the definition of evolution: the word itself becomes a synonym for progress. […] Life is a copiously branching bush, continually pruned by the grim reaper of extinction, not a ladder of predictable progress. Most people may know this as a phrase to be uttered, but not as a concept brought into the deep interior of understanding. Hence we continually make errors inspired by unconscious allegiance to the ladder of progress, even when we explicitly deny such a superannuated view of life.
Truth in Oversimplifying
This is an oversimplified, misleading illustration that anyone with any degree of scientific literacy should deplore. However, it panders so effectively to our views about our superiority in the order of Nature and our delusions about "progress" that we overlook its shortcomings.
What do you say? Is this a simplistic way of conveying the facts about evolution? Am I reading too much into it?