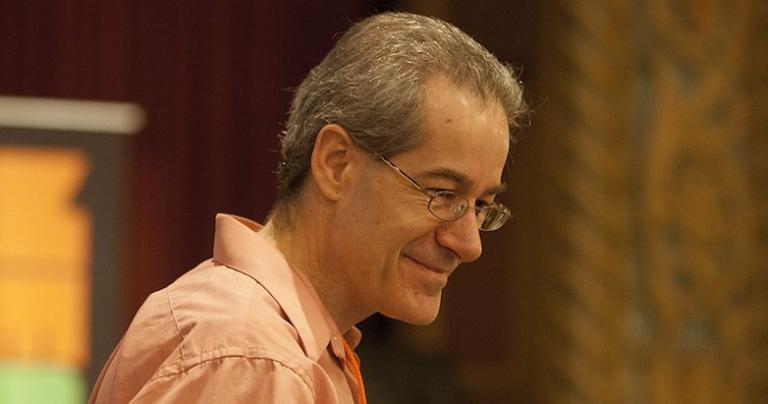 Scientist, philosopher of science, and modern-day Stoic Massimo Pigliucci is (like everyone at Driven to Abstraction) a supporter of science. But like us, he's dismayed at the prevalence of scientism too.
What Is This Thing Called Scientism?
Scientism might be a convenient insult for intellectually lazy religious people to lob at their skeptical foes, but that's not all it is. In a recent entry at the blog of the American Philosophical Association, fellow atheist Pigliucci not only describes the phenomenon of scientism but gives us six ways to recognize it. Here's his definition:
First off, what is scientism, exactly? Sometimes it pays to go back to the basics, in this case to the Merriam-Webster concise definition: "An exaggerated trust in the efficacy of the methods of natural science applied to all areas of investigation (as in philosophy, the social sciences, and the humanities)."
I would add to this definition the belief that only science provides valid knowledge; that we should apply scientific methodology to how we conduct our lives and the workings of society; and that any criticism of science is unwarranted.
How to Detect Scientism
Citing philosopher of science Susan Haack, Pigliucci goes on to list six signs of scientistic thinking.
1. Using the words "science," "scientific," "scientifically," "scientist," etc., honorifically, as generic terms of epistemic praise.
Indeed, "because Science" has become the intellectually lazy response to intellectually lazy challenges to evolution, global warming, the efficacy of vaccines. We need to understand that saying, "Yeah Science, bitch!" doesn't convey the cogent argumentation behind any claim supported by the scientific consensus. There's a difference between appreciating the pursuit of empirical inquiry and indiscriminate science cheerleading.
2. Adopting the manners, the trappings, the technical terminology, etc., of the sciences, irrespective of their real usefulness.
I've always said that anyone can employ the trappings of science—its terminology and stated commitment to objectivity—to lend the veneer of legitimacy to ideology. It's important to remember that creationists and other like-minded crackpots don't deny science per se, they merely allow themselves to define which lines of research they consider legitimate science.
3. A preoccupation with demarcation, i.e., with drawing a sharp line between genuine science, the real thing, and "pseudo-scientific" impostors.
This is more of a battle for authority than anything else. We're very quick to dismiss "pseudo-science" when it's stuff that's pushed by Christians and crackpots. But what about the stuff that panders to our prejudices? How skeptical are about claims from biology or neuroscience that tell us what we want to hear about humanity and the world?
On this point, Pigliucci differs from Haack, saying that most people don't realize the complications involved in making a distinction between science and pseudoscience. In Pigliucci's opinion, it's just as common to see people making the opposite mistake, trying to expand the definition of science until it's "coextensive with reason itself."
4. A corresponding preoccupation with identifying the "scientific method," presumed to explain how the sciences have been so successful.
Like I always say, science works because we call what works science. The Stanford Encyclopedia of Philosophy admits that it's impossible to define the scientific method apart from the way that science is conducted by culturally and historically situated human agents. So why are we so comfortable making pronouncements about how our beliefs are somehow supported by science?
5. Looking to the sciences for answers to questions beyond their scope.
Science is a powerful method of inquiry when it comes to natural phenomena. However, it can't determine human values, regardless of what Sam Harris says, and it can't serve as the be-all and end-all to public policy, as Neil deGrasse Tyson seems to think. We also have to be skeptical when presented with scientific-sounding explanations for complex cultural phenomena.
6. The denial or denigration of the usefulness of nonscientific activities, particularly within the humanities. 
When scientists like Lawrence Krauss and Stephen Hawking call philosophy a waste of time, it gives the impression that science is a practice that's completely free of philosophical assumptions. Science fans dismiss anything non-scientific as pure speculation, little more than wishful thinking. I happen to think we have a lot left to learn through science; however, we also learn about the flux of history and the human condition through art, music, and literature too. Reality is more than just a sum total of data points.
Keeping things in Perspective
Pigliucci closes by discussing what science is and isn't, and the pitfalls of pretending we're conducting our lives using scientific principles:
Science is a particular ensemble of epistemic and social practices — including a more or less faulty system of peer review, granting agencies, academic publications, hiring practices, and so on. This is different from "science" as it was done by Aristotle, or even by Galileo. There is a continuity, of course, between its modern incarnation and its historical predecessors, as well as between it and other fields (mathematics, logic, philosophy, history, and so forth).

But when scientistic thinkers pretend that any human activity that has to do with reasoning about facts is "science" they are attempting a bold move of naked cultural colonization, defining everything else either out of existence or into irrelevance. When I get up in the morning and go to work at City College in New York I take a bus and a subway. I do so on the basis of my empirical knowledge of the Metropolitan Transportation Authority system, which results — you could say — from years of "observations" and "experiments," aimed at testing "hypotheses" about the system and its functionality. If you want to call that science, fine, but you end up sounding pretty ridiculous. And you are doing no favor to real science either.