Two of my colleagues discuss postmodernism, truth, and bias.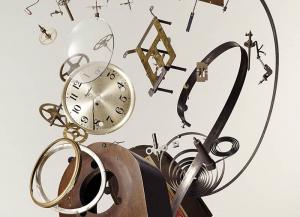 News flash: civil dialogue is possible in the com-box! In the comments section of the Dawkins vs. Gould wrap-up, two of my fellow bloggers exchanged ideas about human nature, informed decision-making, and trust in science.
Meeting of the Minds of the Century of the Week
In one corner we have Honey Crisis, creator of the wonderfully anarchic Lipstick Riot channel on Disqus. In the opposite corner we have Rick Snedeker, manager of the Godzooks blog here on Patheos, where he wields the hammer of reason against the Religious Right. You couldn't locate two more different mindsets without elaborate equipment: the nonlinear thinker and the straightforward rationalist. Yet they had what to all appearances was a fruitful dialogue. What are the odds?
Welcome to the PoMo-Go-Round
It's tough to explain or understand postmodernism, because the term encompasses a lot of different viewpoints, issues and concepts. Rick started out by disapproving what he considers the postmodern mistrust of the scientific project:
I still cannot buy into and even struggle to fathom this so-called postmodernist wariness of science. I lean far more toward Dawkins on this and find some of Gould's views such as his "non overlapping magisterial" as unsubstantiated as the Trinity. Certainly, even honorable scientists have biases, egos and tendencies toward defensiveness that can skew their results, and some have been known to "cook their books." But I'd like to think that broad integrity in the sciences is leading us steadily forward and adding to concrete, useful knowledge. This idea that we are all trapped in a sociological, psychological and traditional vortex of distortion and thus cannot trust our senses and intellect strikes me as an invented "problem." Mankind didn't put a man on the moon through self-delusion. My view is, trust good-faith, properly conducted science, even glorify its capacity for boosting progress, but verify its methodology and results.
I'm not sure Rick's assessment of postmodernism is entirely fair, but he's right that there's a skepticism about science that strikes a lot of science fans as misplaced. For someone who spends a lot of time correcting the faithful in their kooky crusades against evolution and climate change, trust in science isn't a problem.
HC responds by making a valid distinction between critique and condemnation, and trying to establish reasonable boundaries for the wariness Rick observes:
Postmodernism gets a bad rap that I think is undeserved.

It was never intended to be an excuse to dismiss findings and more traditional methods of inquiry, only to apply critique to them.

And a critique isn't necessarily a dismissal of an idea. It's as often a deconstruction and analysis of an idea. Postmodernism just offers another philosophical method of inquiry and analysis that eschews grand narratives, which generally leads to what appears to be the "wariness" you speak of.

But it's not just the idea that everything is up in the air, that nothing has meaning, that there is no truth. That would be more like a form of nihilism.
I literally couldn't have said it better myself. The postmodern attitude is that truth is a very complicated and culturally contingent set of issues, even the truth that science tries to establish.
Rick, however, is still bothered by the notion that science needs to defend itself from unwarranted scrutiny. Why do we have to overthink everything?
Well, postmodernist ideas often strike me as more nihilistic than not. It's like arbitrarily creating an unnecessary realm of argumentation.
And HC responds by pointing out that the argumentation is far from unnecessary. If certainty about objective truth is illusory, so is the idea that there's no truth or meaning at all. It just makes it all the more crucial to take up the challenge of understanding the grounds for our beliefs:
Postmodernism is not afraid of nihilism. At the same time it's not nihilism.

Postmodernism if anything, could be a considered an attempt at transcendence of nihilism.

It accepts that we have no real anchors we can ultimately rely on. But where it departs from nihilism is that for nihilism this is the essential conclusion, where postmodernism keeps going, pushing past into attempting to navigate without anchors in the abyss, rather than giving into the abyss.
Well, that was a bit much for Rick, whose rationalist alarm bell started ringing long and loud:
I don't buy the idea that we have "no real anchors." Yes, there may be some perceptive distortions but, if understood, we should be able to understand pretty clearly the underlying material reality, the "anchor" of the thing, so to speak.
There's no clearer example of the difference between these two ways of thinking. For Rick, who battles religious and right-wing delusion on a daily basis, the entire legacy of human inquiry has been about establishing what's real. For HC, who's been staring into the abyss so long the abyss is scared to stare back, ideas like reality and truth are usually ways the powerful impose conformity of opinion and behavior.
So Honey Crisis has the last word, circling back to what Rick originally said about the aim of inquiry being to generate useful knowledge:
we always understand the material reality quite clearly until someone comes along and unseats it.

science is a series of increments punctuated by revolutions.

Those revolutions are why you can't count on what you know to "pretty clearly reflect the underlying reality"

at best all you can do is ask if it is pretty clearly "useful."
At the end of the day, whether science "works" because it's describing reality or "works" because it's validating its own assumptions, pragmatism forms common ground between the two mindsets.
What do you think? Does the idea of online commenters coming to a provisional point of agreement shock and offend you? Is this a sign of the End Times?