Reality check: The world does not exist!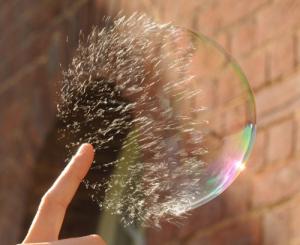 Realism used to be the conventional corner of analytic philosophy where thinkers argued about the prospects for and problems with reality. What can we say is real? Is there a mind-independent reality, separate from the conceptual schemes we use to study and define it?
The Truth About Realism
As a card-carrying social constructivist, I've always looked at such questions wearing a pragmatist's sneer. What's the point of making pronouncements about reality, says the constructivist, when the only ways we can apprehend it depend on the methods of inquiry we've devised? Why assume we can talk about reality without acknowledging the linguistic structures that mediate our understanding of it? In other words, how do you know you're looking at reality?
Well, the speculative realists are slapping my sneering face with new ways to conceptualize ontological questions. Hey, isn't that at least something science fans can admire them for?
The way the new realists define people like me is as correlationists. They're very right to say I don't think it's meaningful to talk about the world without the human, or the human without the world; but this primal correlation is about all I can say about the matter. The new realists mock this wishy-washy pragmatism as "idealism with a realist mask" and declare that we can, in fact, talk about what reality is independent of human modes of inquiry.
Reality Without Humanity
The new realists refute correlationism with the help of a very useful proof-of-concept device, one that should be familiar and comforting to the science fan: fossils of extinct organisms. What better way to illustrate a world divorced from human consciousness than with ancient organisms, who existed, truly existed, in a biosphere where they were untouched by human inquiry and undefined by human conceptual constructs? The speculative realists conceptualize scientific research as a reliable way of accessing reality, but (especially when it comes to natural history) they point out that reality is all about becoming rather than being. Ontology, according to speculative realist nabob Quentin Meillasoux, is not about what is but what may be.
So if this attempt to square the circle has your head spinning, you're not alone. (I recommend Peter Gratton's Speculative Realism: Problems and Prospects as an introduction to the strange new world of the speculative realists.) It seems the new realists try to solve Kant's dilemma concerning the difference between the way objects are and the way they appear to us by claiming that we can know reality in-itself, even from our perspective. If even Meillasoux admits that reality at its base is chaos in flux, then what exactly is realism showing us?
One thing that makes me uneasy about the speculative realists is their frequent anti-humanism. I get that it's incumbent upon them to describe a reality outside our forms of understanding it, but rhetoric like
The world can do without humanity
not only smacks of scientific nihilism, it's also beside the point: aren't we and our creations part of reality too?
Why The World Does Not Exist
Markus Gabriel is the most prominent of the new realists, a terrific and engaging writer who cites Larry David as often as Kant and a very clear-eyed guide through the weeds of speculative realism. His take on realism acknowledges the socially-constructed nature of our knowledge but denies that we're by definition excluded from knowing reality in-itself. Why The World Does Not Exist is his manifesto, and it's a refreshingly readable and jargon-free exposition of his line of thinking.
His theory is that what's real isn't objects but contexts: when we place something in a field of sense, according to Gabriel, that's what constitutes its reality. Therefore, as he points out, even things like witches and unicorns are part of reality because they appear in fictional or legendary contexts; the "world," however, has no more reality than a square circle because it refers to a totality that is self-negating.
And the "world" is a problem for religion and science alike. If there's no unified, eternal, unchanging and God-ordained reality, then there's no all-encompassing scientific Truth either: the totality of atoms in the physical universe doesn't exhaust reality, and the facts of reality—about language, art, and civic phenomena—are just as real as scientific data points, they just inhabit a different field of sense. This new way of thinking, he insists, is not abstruse but liberatory:
An important step for humanity is we really have to give up the idea that all things are connected. Some things are connected, and some things are not. We have to give up the idea that there is an overall structure which already settles things. And if we give up the idea, we also have a chance of reconsidering the option that we're really the free, autonomous human beings that we think we are. We're not determined by an overall structure behind our backs. It's neither God nor the universe, it's us. And that means in that sense we're alone. But the way we're alone is we're alone with infinite possibilities worth exploring.
What do you think? Is realism just self-evidently true, or are there factors that compromise our ability to know what's real? Does speculative realism make sense, or is it an attempt to put Humpty Dumpty back together again after his postmodern plummet?