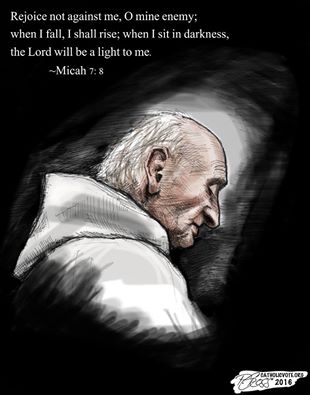 Back in my freshman year of college, one of my friends was in the process of entering the Church. While doing so, she told me that one of the things she had learned about being Catholic is that it "the only thing that gives meaning to suffering." The phrase stuck with me, as it did with her. In particular, I often remember this when I hear about atrocious acts of violence committed against Catholics and Christians worldwide. Yesterday, I had reason to remember it again with the murder of Father Jacques Hamel, when we are confronted, as Pope Francis was with the news of "the barbaric murder of a priest," responding, as our Holy Father did, with what Vatican spokesman Rev. Federico Lombardi described as the "pain and horror of this absurd violence."
In the face of such evil, of knowing that in 2016 a priest in ostensibly liberal, civilized France could be murdered, could have his throat cut by ISIS sympathizers after finishing his celebration of Mass, it is hard not to emphasize the tragedy of such a death. Even those calling for his sainthood, like former Italian Interior Minister Roberto Maroni did on Twitter, cannot help but emphasize the horror. And yet, though pain and horror are rightly our first reactions, particularly in a society where death has become exiled from our conscious minds through "civilization," it is not sufficient to only see pain and horror in Father Hamel's death. It is not merely pain and suffering, it is not simply death that we recognize when a man or woman dies for the faith—the liturgy teaches us, looking to the older "common for one martyr," that in the death of a man like Father Hamel we also celebrate "the day of his triumph."
How can we look at such senseless evil and call it triumph? Because being Catholic gives meaning to suffering. When Scripture teaches is us that the words of the first martyr, St. Stephen, at his death were  "Behold, I see the heavens opened and the Son of Man standing at the right hand of God," we must see the evil and name it so, without losing sight of God's providence and the joy that follows on consummated love. To remain faithful to the end, well, that is to bear the Cross of Our Lord Himself, who became "obedient to death, even death on a cross." According to Sister Danielle, who witnessed the scene, Father Jacques had just finished saying mass, when the ISIS sympathizers forced him to kneel, and slit the throat of the priest, who had this past Easter preached that Christ
"Gave us everything, to live in his love. Jesus…went to the end of love. 'There is no greater love than to give his life for those we love.' And so much love could be lost. God, his Father and our Father, raised him. And 'in this mystery of faith, each of us has already risen.'"
Yesterday, Father Hamel found himself also called to go to the end of love. Not only did Father Hamel give his life for Christ, Who became Man and calls us friends, but in his death he gave perhaps his most powerful testament to that love. Though he could not have known what God would ask of him that morning, in the indelible mark set on his soul at his ordination,
Father Hamel chose that
"
Christ will be magnified in my body, whether by life or by death." In taking Holy Orders, Father Hamel witnessed the truth that "life is Christ," and in his death, on the same altar where he, acting
in persona Christi
, had just made re-present Christ's passion, Father Hamel further witnessed that "death is gain." How truly did he show us that "the  ministers of Christ must be in conformity with Him" (
SCG
4, 74
).
Being Catholic gives meaning to suffering, because it is a suffering we undertake in union with Christ for the sake of His Body. We can unite our sufferings to Christ, and through union with Him, our sufferings are transformed from a consequence of sin and evil, from an irrational consequence of someone's failing to chose the highest good, into a living out of the Passion in our own lives. Our suffering, united to the suffering of Our Lord Jesus Christ, is subsumed into His salvific and redemptive mission. As Tertullian wrote so many years ago of the early Christians, "we spring up in greater numbers the more we are mown down by you: the blood of the Christians is the seed of a new life."
Though we mourn the loss of a priest today, and though we are rightly outraged at the violence of his murder, we cannot forget that in his martyrdom, there is joy that underlies the tragedy and horrific death of Father Jacques Hamel. At his ordination, the bishop was told that the then young man had "been found worthy."   In his death 58 years later, how well has Father Hamel lived up to that judgment and to his vocation as a priest. God has brought good from what men intended for evil, for now depth of that judgment has been shown to the world in its full truth: Father Hamel was indeed worthy, for he followed his Lord where he would not have gone, uniting with him one final time in this life. As David Russell Mosley wrote so well yesterday,
"Somehow the death of priest in a church named after no ordinary martyr, but the first, excepting our Lord, is grotesque and beautiful. What is more, that his blood was poured out as he celebrated the pouring out of Christ's blood, this too is grotesque and macabre and yet beautiful."
In what was intended as an act of terror, God has instead allowed Father Hamel to once more present the reality of Christ to both his congregation and the whole world. How grateful I am to say today #JeSuisCatholique‬. Today, I hope all of us will have the courage to, like Father Hamel, pledge to support the Church "until my last breath." After 58 years of service to the Church, the good Father gave the Church far more than "until" his last breath; he gave to the Church his last breath and his own life blood. I hope that I can say #JeSuisJacquesHamel, because in his life, as in his death, it was not Jacques Hamel, but "Christ who lives" in him. So let us mourn, but let us remember that one day, our tears will transform into joy as Father Hamel's have, for "as we have shared much in the suffering of Christ, so through Christ do we share abundantly in his consolation."