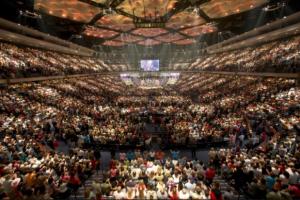 For all the talk that's been going on about Alabama Senate Candidate Roy Moore, I've actually read very little analysis or feedback. But, so far five women have come forward accusing Moore of assault and considering these instances all happened several decades ago, I'm guessing there are more to come.
A serial sexual assaulter doesn't just stop if he hasn't been "caught" or called out. Senate Majority Leader Mitch McConnell has now called for Moore to step down and says he "believes the women."
Moore is denying every allegation and pushing forward. Crazy enough, there's a whole host of Republicans and evangelicals who believe Moore — rather than the women accusing him. I've steered clear of delving into the evangelical wing that are standing behind him, mostly because I don't want to believe it.
Thankfully we have some Christian leaders willing to stand up against it:
A church that worships Jesus stands up for vulnerable women and girls. A church that worships power sees them as expendable.

— Russell Moore (@drmoore) November 13, 2017

I suppose it's NOT surprising considering President Trump had something like 16 accusations of sexual harassment against him during the campaign — and voters didn't seem to care about that. But with evangelicals, I simply can't wrap my mind around it.
I get that Trump — and in this case Moore — will help move forward some policies that ultimately help your cause. But as Christians, we shouldn't be placing our trust in men. If a man of bad character is the ONLY hope, then he is the wrong man. God doesn't need a REPUBLICAN to do his work. He doesn't need the year 2016 or 2018 to accomplish good things for His people. By supporting these men of low character because it's all we've got, we completely remove the chance for God to do something bigger and better. We (they) are having faith in men and not in God.
It doesn't matter how much you think the media are against you, these five women aren't in cahoots with the media. Five isn't one — and the stories I've heard sound pretty plausible. They remind me of Juanita Broaddrick's years old account of Bill Clinton raping her — something many on the Left have never taken seriously. Maybe now that "believe the women" has become a catchphrase, they will?
Oh yes, 25 years later, they have because it's politically expedient I guess.
If somehow Moore were innocent of all these charges, the damage is done. He appears guilty and there is no way to prove he's not. He put himself in a position to be accused and will not be trusted by the people of his state.
Sexual deviancy is a problem that crosses partisan and religious lines across the board but as Christians, we have a higher calling and a whole lot more eyeballs on our actions and reactions to such events. As we should — and we should be the first to stand against it.