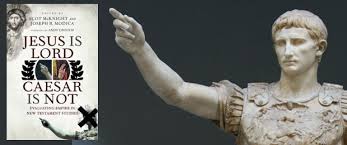 Ben Witherington offers a review and interaction with my essay on Romans in the McKnight/Modica book Jesus is Lord, Caesar is Not.
I would not put anti-imperial rhetoric on the front burner of Romans, however, I am convinced that much of Paul's theology in Romans is incompatible with Roman esteem for the princeps and the empire (see esp. Rom 15:12 with the root of Jesse ruling over the nations).
Witherington is less inclined towards anti-imperial readers of Paul.