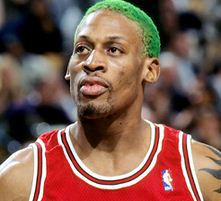 Basketball player turned reality TV mainstay Dennis Rodman just came back from a visit to North Korea, where he got all buddy-buddy with Kim Jong Un. He clearly developed a taste for meeting important world figures, because now he's claiming that "his people in Rome" are trying to hook him up with a meeting with the new Pope, whoever that ends up being.
Rodman is reportedly on a flight to Rome this very second, and he should make it in time to see whether white smoke rises from the Vatican. But is he even Catholic? Or is this just a desperate bid to seem relevant while also collecting a paycheck for
Celebrity Apprentice: All-Stars
? I'll let you answer that. As for his intention, Rodman says "want to be anywhere in the world that I'm needed … I want to spread a message of peace and love throughout the world." Good luck with that, dude.