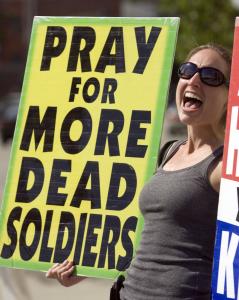 I won't dignify the antics of the Westboro Baptist Church group by linking to their despicable escapades. We got to experience their virulent brand of theology first-hand here in Chardon after the shooting that took place in February of 2012.
Now an on-line petition has begun at WhiteHouse.gov to petition the Obama Administration to legally recognize the Westboro Baptist Church as a hate group. It has over 290,000 signatures at the moment. And I've been encountering requests from other sincere Christians on Facebook to join the cause.
But I have a few problems with the petition.
It's not that the Westboro group doesn't seem to be full of hate. For those not familiar,  they seem to target high-profile funerals as the place to proclaim God's hatred and judgment for all sorts of people. This account from The Huffington Post on Dec. 19 sums it up:
The Westboro Baptist Church announced plans to picket Hochsprung's funeral on Wednesday in Woodbury, Conn., and "sing praise to God for the glory of his work in executing his judgment." The group has blamed the mass shooting on Connecticut's same-sex marriage legislation. On Dec. 14, 26 people were shot at Sandy Hook Elementary School, 20 of those victims included children ages 6 and 7.
Let me be clear: I despise what they do. They are, at best, misguided in their theology and unwise in their practice of it. At best. That's me being non-hateful. But we could also argue the same about James Dobson's Newtown comments. It's a matter of degrees. Should Focus on the Family be labeled a hate group? I know some of you are yelling, "Yes." My point exactly.
Which brings me to my two concerns:
Why petition the White House? When the Obama Administration started this on-line petition thing, some claimed it an innovative way to interact with government. Then someone began petitioning to let states leave the Union. Now it's simply a high-profile way to gin up support for your cause. But isn't that what Congress is for? Regardless of which party controls the White House, the President should not have the power to declare anyone as much of anything without Congressional approval. I think members of both parties will acknowledge we've slid far enough in that direction. We have a Constitutional process through which we declare something illegal. It's called Congress. Enough with the petitions to the Executive Branch already as if the President can or should have the power to unilaterally grant your wish.
Labeling them as a hate group is a slippery and dangerous slope.  Once we go down the road of the government deciding which voices are suitable to be heard, there's little chance we can ever get back. Christians should be concerned that nearly 300,000 people in this country (some of them Christians) want a Baptist Church labeled as a hate group. Yes, their actions are stupid, mean, and hurtful. So were those of the flag-burners in the 1960s — many of whom now work in the White House. One man's church is another man's hate group. Remember that Rome justified the horrific slaughter of Christians by essentially declaring them a hate group, as well. After all, those religious fanatics were cannibals, don't you know, eating bodies and drinking blood!
Lest you think I'm all that far off in my concern, see
this story from Reuters
and then
watch and listen to Christian apologist William Lane Craig's thoughts here
. Key graphs from the story:
 France will deport foreign-born imams and disband radical faith-based groups, including hardline traditionalist Catholics, if a new surveillance policy signals they suffer a "religious pathology" and could become violent.

A French Islamist shooting spree last March that killed three soldiers and four Jews showed how quickly religiously radicalized people could turn to force, Interior Minister Manuel Valls told a conference on the official policy of secularism.

His warning came two days after President Francois Hollande announced the creation of an agency to track how the separation of church and state is upheld in this traditionally Catholic country with Europe's largest Muslim and Jewish minorities.

Valls and two other cabinet ministers told the conference on Tuesday evening the Socialist-led government would stress the secularist policy called "laicite" that they said was weakened under the previous conservative President Nicolas Sarkozy.

"The aim is not to combat opinions by force, but to detect and understand when an opinion turns into a potentially violent and criminal excess," he said.

"The objective is to identify when it's suitable to intervene to treat what has become a religious pathology," said Valls, whose ministry oversees relations with religions. [emphasis mine]
Freedom isn't free. It requires us to put up with wackos, hate-filled protesters, and flag-burners among many others. That's the price of freedom. If we're no longer willing to pay it, maybe we should have an entirely different conversation.
But enough with the petitions to the White House. Seriously. I don't think our government can even afford to respond.