After 72 #FolkloreThursday blog posts, I'm moving on to other projects…but don't worry, there'll still be plenty of awesome secular folklore content (elsewhere, because updates!).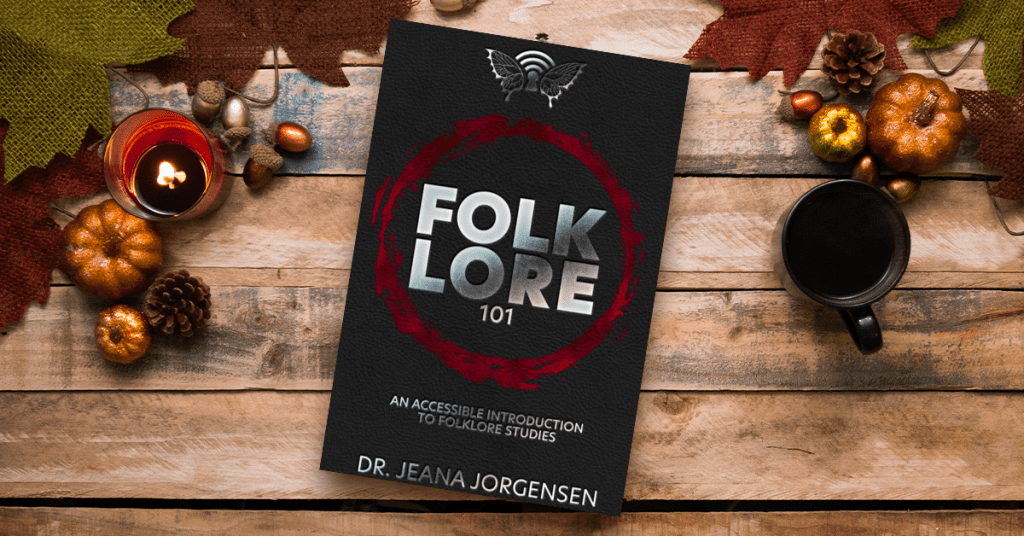 When I started blogging at Patheos in March of 2016, I got the brilliant idea for a weekly folklore educational series, in sync with the #FolkloreThursday hashtag that was becoming popular on Twitter. I wrote – and yes, I counted! – 72 blog posts to educate people on what folklore is, on its major and minor genres, on its popular and obscure theories.
Now many of those blog posts have become a book: Folklore 101: An Accessible Introduction to Folklore Studies. It comes out on Halloween, and I'm both excited and terrified.
See, I'd never written a book before. And even if this one largely consisted of existing material, with new stuff and revisions and an overall reframing to make the book perfectly welcoming to anyone and everyone who just happened to pick it up, the process was, shall we say, humbling. I learned, among other things, just how much I rely on community for ideas, inspiration, and help…and that's what the rest of this post will be about. Plus announcing my blog's relocation.
Writing a book is necessarily a solitary process, but community comes in at all phases: running ideas by people, asking for help with every single aspect of self-publishing since I'm new to it, and hiring people to assist with various aspects of the work (cover design, editing, and indexing thus far).
With my scholar-hat on, I've come to view the group of self-published authors I'm virtually hanging out with as a folk group: a group of people, even if they don't see each other much in person, who share values, experiences, and folklore. There's a general desire to be helpful and boost each other up, and a healthy distrust of institutions and gatekeeping. And I get it: their worldview is informed by the shared experience of being able to veer away from the expectations of traditional publishing and forge a new path (and career!) in independent publishing. Of course shared experiences lead to shared senses of identity and thus shared culture. We share memes with each other, and jokes, and personal narratives. It's awesome.
And you know what? In some ways I've received better mentorship, guidance, and advice from internet friends who are authors than from people in my academic discipline. I'm happy to be a folklorist, but I'm even happier to be an independent author as well, given how much support I've received in my short time in the community. It's fascinating to observe these group dynamics at work.
On to the next part of this post: with wrapping up Folklore 101 and the #FolkloreThursday hashtag posts, I'm also wrapping up my time blogging at Patheos. I'm utterly grateful to everyone here – my fellow bloggers, my audience, my editor – for making my 5+ years on this site a delightful.
But with concluding my book, I've been thinking about where I want to go with my writing (other than the next book or two in the series, which I envision as being Fairy Tales 101 and possible Folklore 200, a deep dive into more topics than I had time to get into with the first book). I have this idea to be not just a folklorist and a writer and a scholar who does a bit of work in sex education/sexuality/gender studies, but also more of a public intellectual, a cultural critic. The new site launches soon, and I'll be tweeting about it once it does, but for now there's a link to sign up for updates at the bottom of this post.
Being part of a new secular internet-space is pretty exciting, and I hope to continue to grow as a writer. I've been so focused on the analysis and scholarship of storytelling that I haven't really thought about telling my own story as much as I could, and now that I'm linking up with some new people for projects that explicitly focus on the narrative of secular life, the possibilities seem endlessly enticing.
It's weird to realize that I am having a "go big or go home" moment with my writing, when I am still in the midst of pandemic burnout. But here we are, so huzzah!
If you want to check out my book (please do!) then you can click here, or tell someone the easy to remember link: https://books2read.com/folklore101
If you want to keep up with my blogging and this great new secular media/culture/etc. project, you can check out Pale Blue Dot Studio (as it's currently being called) here.