Sometimes it takes a little extra motivation to get myself in gear to get stuff done. This brilliant site displaying Judith Butler's most disapproving faces does just that.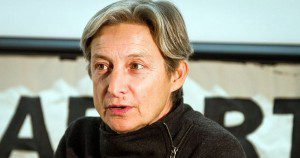 Seven Pictures of Judith Butler Ranked by how Inadequate They Make Me Feel is an ironic exploration of scholarly self-esteem.
If you don't know Butler's work, well, she's largely responsible for the theory of gender performativity, which is a huge development in feminist scholarship. This site explains her theory using cats, in case you'd like a primer.
She teaches at Berkeley, and I kinda wanted to meet her while I was here to fangirl over her a bit and explain why her work is SO useful in folklore and fairy-tale studies even if not a ton of scholars are using it… but I hear her classes are always full and she's difficult to get an appointment with, so I relegated that idea to the realm of fantasy. For instance,
I use her work in my paper on Kinship, Agency, and Women's Voices in Palestinian Arab Folktales
. Not that I'd want her to read that particular paper of mine since it was early grad school work and I don't want to witness her disapproval.
Still, it's nice to know that I'm temporarily on the same campus as one of my scholar superheroes. And it's nice to have a website gently joking that we care about the approval of the greats in our fields. With that, I'm getting to work!