Child abuse matters. So does justice. Accusations that Woody Allen abused his adoptive daughter, Dylan Farrow, recently filled the headlines…

Here's an excerpted part of the "Open Letter" from Dylan Farrow that was reprinted in the New York Times. Please read it and then read part of Woody Allen's excerpted response.
Who do you believe?
***
(A note from Nicholas Kristof) "In 1993, accusations that Woody Allen had abused his adoptive daughter, Dylan Farrow, filled the headlines, part of a sensational story about the celebrity split between Allen and his girlfriend, Mia Farrow. This is a case that has been written about endlessly, but this is the first time that Dylan Farrow herself has written about it in public.")

An Open Letter From Dylan Farrow (Excerpt)
By
DYLAN FARROW
What's your favorite Woody Allen movie? Before you answer, you should know: when I was seven years old, Woody Allen took me by the hand and led me into a dim, closet-like attic on the second floor of our house. He told me to lay on my stomach and play with my brother's electric train set. Then he sexually assaulted me. He talked to me while he did it, whispering that I was a good girl, that this was our secret, promising that we'd go to Paris and I'd be a star in his movies. I remember staring at that toy train, focusing on it as it traveled in its circle around the attic. To this day, I find it difficult to look at toy trains.

For as long as I could remember, my father had been doing things to me that I didn't like. I didn't like how often he would take me away from my mom, siblings and friends to be alone with him. I didn't like it when he would stick his thumb in my mouth. I didn't like it when I had to get in bed with him under the sheets when he was in his underwear. I didn't like it when he would place his head in my naked lap and breathe in and breathe out. I would hide under beds or lock myself in the bathroom to avoid these encounters, but he always found me. These things happened so often, so routinely, so skillfully hidden from a mother that would have protected me had she known, that I thought it was normal. I thought this was how fathers doted on their daughters. But what he did to me in the attic felt different. I couldn't keep the secret anymore.

When I asked my mother if her dad did to her what Woody Allen did to me, I honestly did not know the answer. I also didn't know the firestorm it would trigger…

After a custody hearing denied my father visitation rights, my mother declined to pursue criminal charges, despite findings of probable cause by the State of Connecticut – due to, in the words of the prosecutor, the fragility of the "child victim." Woody Allen was never convicted of any crime. That he got away with what he did to me haunted me as I grew up. I was stricken with guilt that I had allowed him to be near other little girls. I was terrified of being touched by men. I developed an eating disorder. I began cutting myself. That torment was made worse by Hollywood. All but a precious few (my heroes) turned a blind eye. Most found it easier to accept the ambiguity, to say, "who can say what happened," to pretend that nothing was wrong. Actors praised him at awards shows. Networks put him on TV. Critics put him in magazines. Each time I saw my abuser's face – on a poster, on a t-shirt, on television – I could only hide my panic until I found a place to be alone and fall apart.

Last week, Woody Allen was nominated for his latest Oscar. But this time, I refuse to fall apart. For so long, Woody Allen's acceptance silenced me. It felt like a personal rebuke, like the awards and accolades were a way to tell me to shut up and go away. But the survivors of sexual abuse who have reached out to me – to support me and to share their fears of coming forward, of being called a liar, of being told their memories aren't their memories – have given me a reason to not be silent, if only so others know that they don't have to be silent either…
***************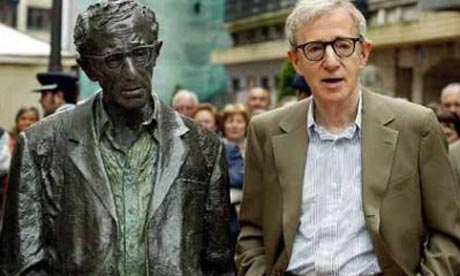 Mr. Allen wrote the following published in the NY Times in response to the column and Dylan's account: (Excerpt)
TWENTY-ONE years ago, when I first heard Mia Farrow had accused me of child molestation, I found the idea so ludicrous I didn't give it a second thought. We were involved in a terribly acrimonious breakup, with great enmity between us and a custody battle slowly gathering energy. The self-serving transparency of her malevolence seemed so obvious I didn't even hire a lawyer to defend myself. It was my show business attorney who told me she was bringing the accusation to the police and I would need a criminal lawyer.

I naïvely thought the accusation would be dismissed out of hand because of course, I hadn't molested Dylan and any rational person would see the ploy for what it was. Common sense would prevail. After all, I was a 56-year-old man who had never before (or after) been accused of child molestation. I had been going out with Mia for 12 years and never in that time did she ever suggest to me anything resembling misconduct. Now, suddenly, when I had driven up to her house in Connecticut one afternoon to visit the kids for a few hours, when I would be on my raging adversary's home turf, with half a dozen people present, when I was in the blissful early stages of a happy new relationship with the woman I'd go on to marry — that I would pick this moment in time to embark on a career as a child molester should seem to the most skeptical mind highly unlikely. The sheer illogic of such a crazy scenario seemed to me dispositive.

Notwithstanding, Mia insisted that I had abused Dylan and took her immediately to a doctor to be examined. Dylan told the doctor she had not been molested. Mia then took Dylan out for ice cream, and when she came back with her the child had changed her story. The police began their investigation; a possible indictment hung in the balance. I very willingly took a lie-detector test and of course passed because I had nothing to hide. I asked Mia to take one and she wouldn't. Last week a woman named Stacey Nelkin, whom I had dated many years ago, came forward to the press to tell them that when Mia and I first had our custody battle 21 years ago, Mia had wanted her to testify that she had been underage when I was dating her, despite the fact this was untrue. Stacey refused. I include this anecdote so we all know what kind of character we are dealing with here. One can imagine in learning this why she wouldn't take a lie-detector test…
Who do you believe? And Why? And How should such cases be treated years later?

Follow Frank Schaeffer on Twitter: www.twitter.com/frank_schaeffer
See Frank Schaeffer's paintings HERE!
Follow Frank on Facebook HERE
Frank Schaeffer is a writer. His latest book — And God Said, "Billy!" exploring the roots of American religious delusion, and offering another way to approach true spirituality, is on Kindle, iBook and NOOK for $3.99, and in paperback. It spent 8 weeks as Amazon's #1 best seller for Political Humor.