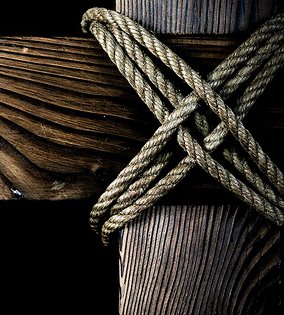 Lent has never been part of my tradition, but I went to our church last night for Ash Wednesday. It was like an open house, so you could walk in and pray in your own time, take communion, and let the pastor put ashes on your forehead. As I went in, I went straight to the large cross and stood before it, praying. I poured out my heart for Rob, our kids, our futures.
Then I just looked at the cross. The rope tied across the center. I smiled. Oh yes, did you have something to say? I finished with my words. Maybe you have some things to tell me?! The thought settled on me. How many things we ask of God: Would you please do this… If you don't mind doing that… And he doesn't mind. He asks us to bring our cares to him, the big ones and the small.
But I wonder if I miss some of what he has to say, because I am busy speaking instead of listening, asking instead of receiving, focused on my will and only incidentally on his will.
And sure we ask for his will, of course we do. But how far are we willing to accept his will?
I ask this because a mom recently messaged that she wants to gather with a couple of other moms to pray that their children are not gay. The trouble is, these kids have already come out to them. These are gay kids. It's who they are. But these moms aren't satisfied with that answer. They are praying, God will you change them? Please??
I understand their desire, given that the parents have heard their churches teach that turning out gay is the worst thing that can happen. Sure, we have a pretty good idea of what we want, and we are welcome to ask. No harm, no foul.
But what if the answer is no? What if the answer is that their kids are fine exactly how God created them? Personally, I've never seen the "make my child not gay" prayer answered with a yes.
Fellow parents, I wonder what we're missing when we ask for our will — however righteous it might seem to us — instead of just laying our will down and asking God, no holds barred, for his will to be done. Trusting him with our lives. Trusting him with our children's lives. Whatever God wants. Even if we don't agree or understand.
I wonder how our lives would look. I wonder if we would have that peace Jesus mentioned — that peace that is beyond our own understanding. I'm pretty sure we could use it.