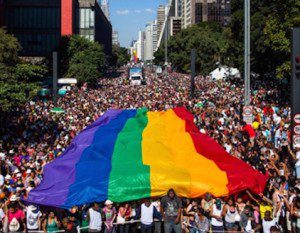 I'm a big supporter of same-sex marriage. I have been for a long time. As a gay man, it makes me happy and proud to see same-sex marriage become legal in so many states, even in my home state of Oklahoma. And yet, I am also aware that same-sex marriage is by far not the most pressing issue in my community. Marriage didn't have to be the main focus of the LGBT rights movement. The riots at Stonewall, for example, were about being left alone – stop harassing us, stop arresting us, just let us be.
So how did the word "equality" as it pertains to the LGBT community come to mean "marriage?"
This is Susan. My daughter, Annie, shared this thought-provoking article with me. It was written by John Paul Brammer and appeared on Blue Nation Review. I wanted to share it with you.
Marriage equality is easy to pitch. Heterosexuals understand marriage and they understand love. It is much easier for minority communities to advocate on the platform of "we're just like you!" as opposed to "yes, we are different, but we should still be respected."
Take a look at the face of same-sex marriage. Typically, it is advertised as being between two handsome, middle to upper class white gay men. I've written about several corporate advertisements which feature couples like this.
It's no accident. It's a direct appeal to power.
Which brings in another important factor: Money. Marriage inequality, as opposed to workplace discrimination or homelessness, is more likely to affect affluent gay men, men who can donate big bucks to social causes.
Again, marriage equality is a wonderful thing, but what about the LGBT causes that don't enjoy the same level of visibility? Here are just a few examples.
Homeless Youth
Only 10 percent of the general youth population identifies as LGBT, but they make up 20 percent of homeless youth. Some homophobic, biphobic, and transphobic families would rather abandon their LGBT child than accept them. The suicide rate for LGBT homeless youth is a staggering 62 percent.
Sex Education
LGBT issues are largely left out of sex education in schools, and there are indeed schools with no sex education at all. Not only does this encourage reckless behavior from LGBT youth, but it also stigmatizes non-heterosexual sex at an early age. It also ties in with HIV/AIDs prevention, which could save LGBT lives.
Mental Health
On the whole, the LGBT community suffers from higher rates of: depression, anxiety, substance abuse, eating disorders, and suicidal thoughts, though the rates vary depending on the facet of the community. We have also yet to ban the harmful practice of gay-to-straight conversion therapy.
Workplace Discrimination
It is still legal to be fired in 29 states for being gay, but even worse, it is difficult to be a visibly trans person and find work. Working is how we survive – and if we can't do it safely, then our very existences are imperiled.
Violence
Anti-LGBT violence isn't just happening in places like the Middle East. It remains an issue here in the United States as well, where LGBT people, particularly trans women and people of color, face high rates of severe violence.
Marriage equality is important, but so are these issues. Unfortunately, these are less glamorous and less palatable than the issue of same-sex marriage, and often go neglected.
Click here to read the original article.

John Paul Brammer is a Contributing Editor at BNR. His writing on LGBT and Latino issues has appeared in The Advocate and Huffington Post. Find him on twitter.