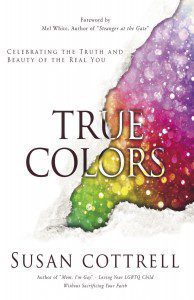 SUSAN'S BOOK TO BRING HEALING TO LGBTQ!
TRUE COLORS
Celebrating the Truth and Beauty of the Real You
True Colors is a very special full size, 8.5 x 11, workbook style book. It is time to heal! It is time to celebrate!
True Colors is more than just a good read. It is an opportunity for readers to journal on special pages left for that purpose. Throughout True Colors Susan asks the reader frank and honest questions that require frank and honest replies. This "journaling" gives readers an opportunity to keep a running conversation with themselves.
When you order True Colors order two copies. Give the second copy to a friend or a member of your family whom you trust. Ask that person to read and journal at same time you are. Or, why not take a real risk and give a copy to your hostile parent, pastor or priest. Although True Colors is written primarily for people who are LGBTQ, Susan often interjects ideas along the way that can change the mind and heart of hostile readers as well.
Susan Cottrell makes it very clear from the beginning that she wrote True Colors to help LGBTQ people heal relationships with parents, family, others, with God and with themselves. And she provides practical ways to go about bridging those gaps that seem too wide to cross.
This is a very personal book for Susan. She is absolutely convinced that heart-healing can take place, that relationships can be reconciled.
You can almost hear her whispering between the lines "God loves you exactly as you are. Quit being afraid. Quit hiding. Love yourself as God loves you. Begin your new life as a self-loving LGBTQ person and let the healing begin." – From the special foreword by Dr. Mel White, author of Stranger at the Gate and Co-Founder of SoulForce
My husband and I speak out daily to help families reconcile with their kids. I wrote "Mom, I'm Gay" to help parents do just that. But even as I wrote it, I knew I wanted to write True Colors to help LGBTQ people recover from their family and faith-related wounds. Every person deserves a place to belong, to be loved, to be whole. I longed to offer you that place. And so here it is, just for you. This book is for healing with others, healing with God, and healing with yourself. – Susan Cottrell, Author, True Colors – Celebrating the Truth and Beauty of the Real You

"For anyone who has been spiritually hurt by the church, by parents or family members, Susan Cottrell's True Colors is a personal, intimate, powerful tool for genuine self-healing." – Meghan Stabler, National Board of Directors, The Human Rights Campaign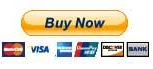 (If you would prefer the KINDLE edition, click here)

What Others Are Saying…
"As an LGBTQ person who has been deeply hurt by the callous actions of so many Christians and the church itself, I found True Colors to be profoundly encouraging and affirming. It's as if Susan sits down next to you, looks in your eyes, and gently, carefully, speaks words that act as a healing balm to your wounded soul." —Marg Herder
"I think of you as the Great and Powerful Oz. You are the most kind and wonderful person. I would not be who I am today if not for you and your work." —Lisa Hard
"Not since Max Lucado have I found a person who so truly and completely understands the necessity and work of GRACE in a day-to-day existence." —Travis Meares
"I thank you, from the bottom of my heart, for this writing. Beautiful! I hope it helps and even saves many." —Patrick Keller
"In this book, you will quickly recognize Susan Cottrell as a real person with real kindness. Readers may think she is talking directly to each of them as she encourages them toward peace and self-compassion. For anyone who may have felt overlooked or injured, here is Cottrell saying, 'I see you. I want to journey with you.' " —Brad Modlin
"Thank you for showing me I can trust someone and it's okay to let my guard down. It's okay to allow someone inside my circle." —Ang M.
"Susan Cottrell adds a clear and compassionate voice to the conversation of faith, gender and sexuality in her book, True Colors. At the same time, she provides a firm and challenging perspective to those who would continue to create barriers to love and acceptance under the guise of God's grace." —Josh Krueger
"If this book had been around in the 90s, I could have found healing sooner and not avoided God and the church for nearly 15 years! I cannot wait to share it with others." —Criselda Marquez