On Tuesday morning, Rick Santorum's spokesman Hogan Gidley was interviewed by MSNBC.  He said something that we've all gotten quite used to on the campaign trail – yet another slam against Gov. Romney for becoming pro-life.  In extolling his own candidate, he said:
"I mean, that's who he is," Gidley said. "He doesn't have to tack to the right on social issues like Mitt Romney because he actually firmly believes those things."
However, this morning, I came across this interesting Huffington Post article which shows that Santorum apparently was pro-choice until he ran for public office:
In a December 1995 Philadelphia Magazine article — which the Huffington Post pulled from Temple University archives — Santorum conceded that he "was basically pro-choice all my life, until I ran for Congress… But it had never been something I thought about." Asked why he changed his mind, he said that he "sat down and read the literature. Scientific literature," only to correct himself and note that religion was a part of it too.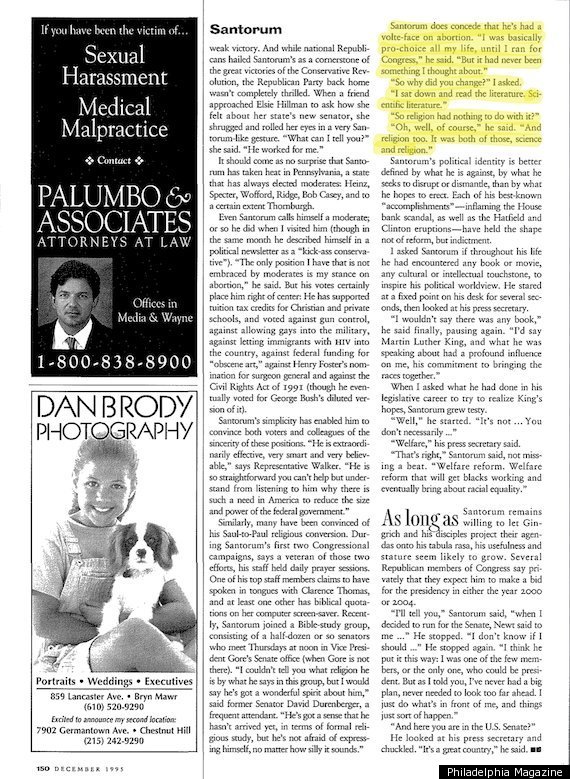 So why does this matter?  Aren't we glad when people change their minds?  Of course!  We have maintained for years that pro-lifers should be thrilled when we win converts from the pro-abortion mindset.  Is that why we're having conversations across the country?  To convince people to change?  So why, when people do actually change their minds, do we wag our finger at them and say, "Well, that took you long enough."
In other words, Santorum's pride and arrogance towards Gov. Romney – a man much more qualified to run this country – is unjustified and offensive. You didn't see this contempt towards Fred Thompson (who ran as a pro-choice candidate in 1994 in Tennessee) and you didn't even see it towards Rick Perry (who endorsed the ONLY pro-choice candidate in 2008).
Gov. Romney had a pro-life conversion as did a lot of candidates – including Sen. Santorum. Let's retire the condescension and be thankful that our message of life is resonating.
See also: Santorum is Running for Pastor-in-Chief