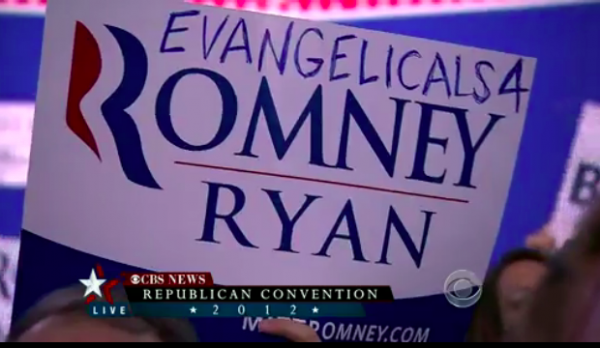 We started Evangelicals for Mitt in 2006, so I had to represent on the convention floor!  This screen shot was taken during Clint Eastwood's speech.
Read More About the RNC Convention Here:
A NJ Evangelical for Mitt Gives Interview from Convention
My Sign Made It Onto CBS News!
A Video You Should Watch and Share
Mitt's Decision Making History
Two Quick Takeaways from RNC Day Three
Ann Romney Wows Crowd: Newsmax
Three Takeaways from RNC Day Two
Four Takeaways from RNC Day One
The Moment Gov. Romney Got Enough Delegates to Put Him Over the Top
Ann Romney Introduces Herself to the Nation
The Moment We Walked into the Convention
The Convention Was Just Called to Order
Bob Corker, Frank Luntz, and Hurricane Isaac
Follow me on Twitter and Facebook!