Well, the well-known pattern of Hamilton fans booing people with whom they disagree continued this week when Vice President-elect Mike Pence experienced a very chilly reception. First, the crowd booed when he walked in:
Mike Pence booed at Hamilton is exactly the type of content I come to Twitter for. pic.twitter.com/EK0pXvPxWA

— Philip Lewis (@Phil_Lewis_) November 19, 2016
Then, when the line "immigrants, we get the job done" was sung, the entire crowd stood to their feet and applauded. But at the end of the performance, Brandon Victor Dixon — who now plays Alexander Hamilton  — gave a rather condescending speech.
Tonight, VP-Elect Mike Pence attended #HamiltonBway. After the show, @BrandonVDixon delivered the following statement on behalf of the show. pic.twitter.com/Jsg9Q1pMZs

— Hamilton (@HamiltonMusical) November 19, 2016
Here's the text of what he said:
"Vice President-elect Pence, we welcome you and we truly thank you for joining us here at 'Hamilton: An American Musical.' We really do. We sir, we are the diverse America who are alarmed and anxious that your new administration will not protect us, our planet, our children, our parents or defend us and uphold our inalienable rights."
President elect Donald Trump was not happy with this treatment: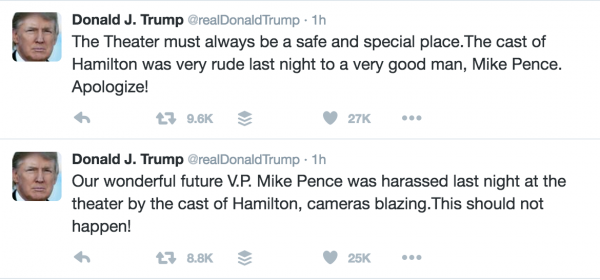 And Twitter has exploded with criticism of the speech: