I may very well be coming to your area this summer!  If you live near any of the following cities, I'd love to have you drop in to hang out, get a bite to eat, or come listen to one of the talks I'm giving.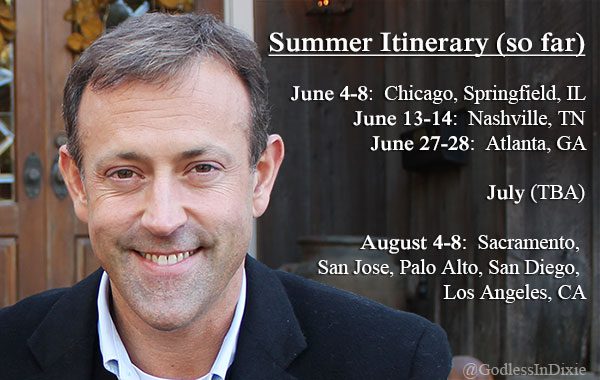 For a more detailed breakdown of where I'll be, see the itinerary below:
Current Summer Schedule
For much of July, besides trying to write a book and hunting for a new job, I'll be attending two or three conferences on assignment for Recovering from Religion and to help promote next year's Reason Rally 2.  More dates will likely get filled in as the summer rolls on, so if you have a group who may be interested in having me come talk to them, just shoot me a message and I'll forward the necessary info to you in order to set that up.  At the start of August I'll be doing a tour of the west coast:
This is looking to be a great year, and I'm really excited about finally getting to meet some folks face-to-face.  So if you happen to live within driving distance of any of these places, come meet with us!  And if you know of a group that would like to have me visit, let me know and we'll work it out.
And as always, if you'd like to help make sure the costs of running around and doing these things gets covered, you can always sponsor me on Patreon.