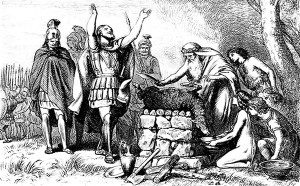 With only three more chapters to go in Tim Keller's The Reason for God, I feel I must warn the reader that by this point the pastor of Redeemer Church in Manhattan appears to have abandoned the central thesis of the book. Or perhaps we came to this reading with unrealistic expectations from the beginning.
At the leading of so many friends and family members, we picked up this book expecting an updated and compelling argument for either the existence of God in general or perhaps for the legitimacy of the Christian faith in particular. What we encountered instead was a book with fourteen chapters divided up into two parts: the first half presenting (or rather misrepresenting) seven common objections to the Christian faith, and the second half presenting a positive argument for believing in the Christian message.
But of the seven chapters which comprise the second half, only two chapters really speak to anyone still skeptical about the legitimacy of the Christian story. At the end of that second chapter, Keller confesses that he believes everyone really knows there is a God, at which point he pivots hard into preaching for the remaining five chapters as if his readers were already convinced, not only that his religion is the right one, but also that his specific tradition within that religion is the only one worth taking seriously.
I have not tried to prove the existence of God to you. My goal has been to show you that you already know God is there. (p.162)
And then the sermons begin. I'm not kidding. The last five chapters of the book effectively read like sermons he might preach in his church on Sunday morning. Very little is said to establish why a skeptic would accept any of the sweeping claims he makes for the remainder of the book. He simply trots out one evangelical Christian talking point after another as if his reader has already heard all he needs to hear in order to fully accept everything Keller's tradition has to say.
There is a chapter on sin. There is a chapter on grace vs. legalism (a.k.a. relationship vs. religion). Then there is a chapter on the substitutionary death of Jesus as payment for that sin. And on and on it goes, as if we've just signed up for a Sunday School series and we feel that nothing more needs to be asked.
I suppose it could be partially my fault for expecting something else. I think as a skeptic I tend to approach any new investigation with a sense of expectancy and hope that I will discover something new. It's a part of my wiring at this point. But one of these days it's finally going to sink in that as long as the thing I'm exploring involves evangelical Christianity, there truly is nothing new under the sun.
Why Did Jesus Have to Die?
You will often hear me say that "religion is an exceedingly subjective enterprise," by which I mean that there has never been, nor will there ever be, one single authoritative version of any particular religion. Many wars have been fought over which version of each religion is the right one, and despite our noblest attempts to use the tools of a historian to ferret out The One True Version™ of any of them, what we keep finding instead is that very few religions suddenly happened upon the scene, and not one of them appears to have descended from on high, complete and intact as a coherent and consistent whole.
Primitive Christianity most likely evolved out of several competing traditions and communities distributed across the Roman Empire over many decades. In particular, the Judean and Syrian Christian communities had very different approaches to their religion, with the former remaining focused on fulfilling the Mosaic law while the latter eschewed that tradition in favor of recontextualizing the Abrahamic faith for a wider, less Jewish audience. The Syrian way won out, not only because the apostle Paul ingeniously reimagined the Christian faith into the more ethnically neutral form by which we know it today, but also because the destruction of Jerusalem in 70 A.D. irrevocably dispersed the earliest communities that made the itinerant rabbi from Galilee famous in the first place.
Since then, the Christian faith has gone through so many reinventions, and has produced so many competing subtraditions, that it's difficult to find much of anything on which they can all agree. Even the purpose of the death of Jesus remains a hotly contested discussion among Christians today, with at least two major schools of thought vying for dominance in the contemporary church. Really there are several, but two of them keep rising to the top here lately (see also Christus Victor, Satisfaction, Governmental, Capitulation, etc).
A majority of western Christians since the time of the earliest communities have seen the death of Jesus as a vicarious punishment perpetrated on an innocent victim in order to atone for the sins of everyone else. Some call this the Substitutionary Atonement theory. In this view, somebody had to "pay" for the sins of the world, and Jesus died on the cross in order to offer that payment, either for the whole world without distinction, or else for the sake of the people who would "tag up" with him through believing in the Christian message.*
But this raises a number of vexing questions:
What kind of person is supposed to be loving and kind but demands that blood be shed before he's no longer mad?
Isn't killing someone a bit of a brutal way to seek justice, especially if the guilty party never took a life? Doesn't that render the punishment a good deal worse than the offense itself? Isn't a life the most valuable thing you can take?
Why do the lists of "sins" change so much over time? And why do they so perfectly mirror the cultures which produced them?
What kind of justice system lets an innocent person pay for another person's misdeeds? Is that really justice?
Who has to be "paid" in the first place? To whom is the debt owed?
Even if vicarious punishment were just, how does simply believing in it suffice to transfer that payment to another?
Because of these problems (and many more), the favored reasons for the death of Jesus keep changing over time. Nowadays, it's becoming more popular to see Jesus's death as a sacrificial demonstration of love more than a legal transaction to pay for sins (seems like a brutal way to go about that, but okay). Some call this the Moral Influence theory, and while it's been around for nearly as long as the other view, this one didn't really come of age until the heady days of the Enlightenment. It also remains wildly popular among the more liberal and progressive branches of the Christian faith.
But that doesn't seem to faze a dyed-in-the-wool Calvinist like Tim Keller. He wastes no time differentiating his view from the other:
The cross is not simply a lovely example of sacrificial love. Throwing your life away needlessly is not admirable—it is wrong. Jesus's death was only a good example if it was more than an example, if it was something absolutely necessary to rescue us. And it was. Why did Jesus have to die in order to forgive us? There was a debt to be paid—God himself paid it. (p.200)
For Keller, the True Christian™ view of the cross must match whichever way the New Testament itself spoke of the significance of the crucifixion, and frankly in my opinion he seems to have a point here. I realize I may be biased by my own evangelical Protestant upbringing, and perhaps even more so by my Reformed theological graduate work. But then I was never one to be overly impressed with either tradition, and it always seemed obvious to me that the way the earliest Christians spoke about the death of Jesus closely followed the Old Testament categories of vicarious suffering to appease a wrathful deity. As John the Baptist introduced him: "Behold, the lamb of God who takes away the sins of the world!"
Is This Religion Really Better?
But that means that Keller inherits all the problems that the penal substitutionary view creates. And like his forebears, he believes that the doctrine of the Trinity somehow resolves all the inherent theological dilemmas it brings with it.
It is crucial at this point to remember that the Christian faith has always understood that Jesus Christ is God. God did not, then, inflict pain on someone else, but rather on the Cross absorbed the pain, violence, and evil of the world into himself. Therefore, the God of the Bible is not like the primitive deities who demanded our blood for their wrath to be appeased. (p.200)
First of all, it is patently false that "the Christian faith has always understood that Jesus Christ is God." There's a good bit of selection bias at work in that statement, since the ecumenical councils which met to flesh out that question didn't happen until 300 years into this religion's history. It may be true that an understanding of the Trinity was present, maybe even prevalent, prior to the Council of Nicea that began in 325 A.D. But the very fact that it took decades to completely resolve the question tells us that this was far from a settled matter for the first few hundred years of the church's history. They were still trying to iron out the major wrinkles in their concept of the Trinity as late as 360 A.D. and they would then revisit the divinity of Jesus again in the wake of the Nestorian controversy during the Council of Chalcedon in 451 A.D.
But notice how much better Keller seems to think the biblical view of atonement is compared with all the other primitive religions, with their "deities who demanded our blood for their wrath to be appeased." What exactly makes the biblical view of atonement (at least as Keller sees it) so much better? Evidently the biblical God still demands blood to turn away his own wrath. The primary difference seems to be over which kind of blood, or rather whose, will do the trick.
In the Old Testament, it was the blood of sheep and goats and birds. Lots and lots of blood. Good grief. A priest's job in the days of the Old Testament was a disgusting job. I like to imagine
Mike Rowe
 going back in time to do a show on just how much blood and entrails a typical priest had to wash off of his own hands during a typical week of work. But in the New Testament era, you've got a reinterpretation of the Old such that all that killing and all those washings turned out to be merely metaphorical—a dress rehearsal for The Real Thing which wouldn't come until Jesus finally came and shed his own blood to pay for the sins of the world.
Yet still there must be blood. Always blood. The Christian church has been obsessed with that imagery for centuries, and up until very recently, the hymnody of this religion has made this macabre fixation embarrassingly obvious. To our modern, more civilized ears, this whole fascination with death strikes us as unhealthy and barbaric. I'm not surprised that the penal substitutionary view is at last beginning to fall out of general favor. But for people like Keller, it's the one true view delivered once for all to the saints. It seems to me if you believe that the Bible has to be your ultimate guide for how to think about these things, you're going to be hard pressed not to agree with him.
Too Many Problems
But for people like me, there are just too many hurdles. First of all, I reject that this ancient religious text really does an adequate job of differentiating between what is good and what is bad, what it right and what is wrong. Ethical questions are inescapably conditioned by their social contexts, and the commands found in the Bible are no exception to that general rule.
Second, I still don't see a legitimate reason to believe that a Giant Invisible Person is behind the universe, pulling the levers and pushing the buttons to make things happen the way that they do. I was raised to believe in such a person, but at this point in my life I no longer find any of those suppositions persuasive. Keller's book briefly attempted to address the kinds of concerns a person like me would have, but even in that effort he kept misrepresenting what skeptics like me really have to say. His pastoral sensibilities keep bleeding through the pages, truncating the discussion in order to get to the sermon. Here at the end of the twelfth chapter I find myself wondering if there will be an invitation. I'm looking to see if an offering plate is about to be passed.
Third, Keller's explanation of vicarious death for the payment of sins assumes far too much of his reader, as if we are okay by default with the notions that even thought crimes deserve a death sentence, or that one person can pay for another person's wrongdoings. Is that really justice? Does it work like that in any other setting? Would we even want it to?
If our legal system truly were based on Christianity then you could be made to pay for someone else's crimes. That would be justice.

— Neil Carter (@godlessindixie) August 28, 2015
Keller seems to think it fixes the issue if you see the punisher and the punished as somehow the same person (good luck making sense out of that one, they've been trying for 2,000 years). But having formally studied the idea and having devoted two decades of my life to this system of belief, I think I can say that I at least gave it a shot. It was an intriguing idea, but it looks to me more like a doctrine created in committee.
Do you know what I mean by that? Have you ever watched a movie and thought to yourself, "Jeez, that story was all over the place?" The characters' motivations seemed to keep changing, and it felt like multiple plots kept fighting for dominance until finally the whole storyline unraveled into such a big mess that a deus ex machina had to finally swoop down and inexplicably save the day. Chances are good the movie felt disjointed because it was written by too many people with too many incongruous thematic axes to grind.
The Bible kind of feels like that because, as any serious student knows, it was written by a diverse hodgepodge of people who weren't even looking for the same things to happen. It was written over a period of hundreds of years by people trying to reconcile contradictory ideas formulated by competing traditions which grew up among multiple communities not even looking to the same sources of authority in the first place. No wonder this religion can't seem to come together on much of anything at all.
The story has literary merit; I'll give it that. But I just don't buy that it's a true story after all.
*********
As with the rest of this review, I am including links to the videos of Steve Shives, who covered all of these chapters in pairs in his "An Atheist Reads" series. Be sure to check them out. Here he covers Chapters 12 and 13:
[Image Source: Adobe Stock]
__________
If you'd like to read the rest of my responses to Keller's chapters up until this point, you can find them listed here:
(Other Posts in this Series)
[Image Source: Adobe Stock]
__________
* I am indebted to Robert Farrar Capon for the image of "tagging up" through believing in Jesus in order to appropriate the benefits of salvation. The late Episcopal priest meant it as a derogatory term, as he held to a form of Christian universalism which believed that everyone was "saved" in a way through Jesus, whether they believe the story or not.