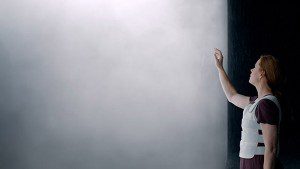 I've seen a lot of movies this year, and most of them promised far more than they delivered. Nowadays the trailers give away most of the key details, anyway, which makes the whole cinematic experience a bit of a disappointment.
Not so with the movie Arrival. I did not know that I would love this movie. But it is easily the best film I've seen in at least a year, and I'm not sure I've enjoyed a movie this much since Dark Knight hit the theaters eight years ago.
I'm a huge fan of Christopher Nolan's, and while he didn't make this film, it felt like it borrowed some of his best filmmaking techniques but actually improved upon them.
I loved everything about this movie: the score, the cinematography, the acting, and most of all the writing. It turns out this movie is adapted from a short story I've never read, and I'll be sure to read it eventually, after I've had a chance to see the film adaptation for a second time. But for now I just want a chance to dive into the parts that made it into the film.
But not yet. First I want you all to go and see it. It's a holiday weekend around here, and it's finally turned cold again so it's a perfect time to go and catch a movie. It's worth the price of admission.
I won't dive into what this movie is about until more of you have had a chance to go see it. I wouldn't have seen it myself, because "Oh em gee, yet another alien invasion movie? Not
again
." But this one is different. They took it in a direction I've never seen before, nor even considered.
There are many layers to what I love about this film, not least of which is that it titillated my inner philosophy geek, replete as it was with poststructural and postmodernist critique of language, of social structures, of memory, and of personal identity. I know right? All that, but inside a sci-fi space invaders flick? I kid you not.
I will warn that personal loss is explored in this movie, and of the kind that belongs to my worst nightmares. I don't think I'm giving too much away to warn that if you've ever lost a child to a terminal illness, you may find this movie too hard to watch, as the protagonist must walk through that in full view of the rest of us. But it was beautifully and tastefully done. I really can't say enough about how well this film was made.
I'm sure I'll find things wrong with it next time, but for now I'm just going to savor the way that, every once in a while, a movie takes me out of my own reality and puts me into a different one, even if just long enough to think about life in a totally different way. Anything that enables me to do that is in my book worth the price of admission.
Check back in a couple more days to read my upcoming review of the film. That'll give you plenty of time to go see it.
[Image Credit: Paramount]