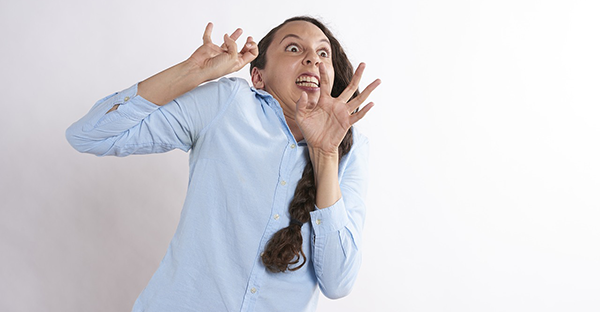 There are days when I get stuck on what to write about.
But, GM, I thought you were an endless source of hot air?
It's true, I tend to go on and on about nothing. But there are days when I get stuck. On these sorts of days, I have a few hacks to get my blogger cogs spinning again, and one of those tactics is to surf the digital brain rot that is a Quora search for "atheism". I wade through the internet's equivalent of a sewage treatment plant to find a rare thought-provoking question that I can answer in a blog post. Unfortunately, these sorts of questions are so rare on Quora, I'd sooner expect to find Elvis asking for a home remedy for constipation.
What I find, instead, are completely nonsensical and insane questions – the sort you might expect to come from Gary Busey on bath salts.
Here are some such questions I've seen when I search Quora for "atheism". I'd suggest sporting a helmet for this post, ladies and beards because it's going to be a bumpy ride.
Do satanic rituals have any real effect? Will I prosper?
Satanic rituals burn calories. They also have the uncanny ability to make you look like a lunatic. You'll also find that engaging in satanic rituals will make the more gullible, less "thinky" sorts of people fear you. You might find you have to spend an afternoon scraping wax off the floor and did you know, chalk pentagrams don't come off of hardwood floor as easily as you might expect? I've heard sometimes ladies become afflicted with a Baby Daddy after a particularly sweaty "satanic ritual" if you catch my drift. Less fortunate folks can contract the clap or, of course, the gift that keeps on giving, a bad case of the love bumps.
Whether or not you will prosper depends entirely on your work ethic, your life choices and the opportunities that come your way. Of course, if you're spending your time dancing naked for the dark lord, you might miss those very opportunities.
I've noticed that atheists like to say they don't believe in "gods" rather than God. Why is this? I haven't seen anyone arguing for the existence of "gods".
It's because we don't believe in any gods. Not Yahweh, not Allah, not Ganesha and not Ananasi. No Thor, no Zeus, no Aphrodite and no Kukulcan. We don't even believe in the Flying Spaghetti Monster despite his delicious meatballs. We don't believe in your god, nor his god or her god. We don't believe in this god or that god or god's gods. We don't believe in god in a boat with a goat. We don't believe in gods in a house with a mouse. We do not believe in them here or there. We do not believe in them anywhere. We believe in zero gods. It's pretty simple.
What is the point of not believing in a God? (Since in doing that, they have zero chance at heaven)
Let's replace "not believing in a god" with other phrases, just to have a really good look at how we sound:
What's the point of not playing golf? Since, in doing that, they have zero chance of getting a hole in one.
What's the point in not buying a lotto ticket? Since, in doing that, they have zero chance of winning the lottery.
What's the point in not believing in leprechauns? Since, in doing that, they have zero chance of finding gold at the end of the rainbow.
Why won't atheists just leave the religious alone?
In thirteen countries atheism is punishable by death.
In 40+ countries, atheism is punishable by prison time and/or violence.
In hundreds of countries, atheists are discriminated against in the workplace, at school and in everyday life.
Atheist bloggers have been hacked to death in the streets for writing about secularism.
Atheist parents have lost custody of their children because they don't take them to worship.
Atheists are told constantly that they have no morality.
Atheists are threatened with eternal hellfire by people who insist they are coming from the moral high ground.
Religious people continue to bar human beings from marrying who they wish to.
Religious people continue to prevent women from having full control of their own bodies.
Religious people continue to push the teaching of fairy tales as fact into public school curriculums.
This list could go on for days. If we stopped talking about religion, we'd be putting up with all of this. Are you suggesting we should just shut up and put up with all of this?
Do mediums ever find atheists coming through from the afterlife?
No, sweetie, they don't because mediums never find anyone coming through from the afterlife. There would have to be an afterlife for that to happen.
If a JW or Mormon missionary offered you a box of Thin Mints to listen to their spiel would you let them in?
No, but I'd do it for a fresh batch of kimchi and mountain pack of Sleeman Original Draught.
What happens after you sign a pact with the devil?
Nothing. Nothing happens after you sign a pact with the devil because you didn't sign a pact with the devil because there is no goddamned devil, no holy.
If atheists don't believe in God, then why do they accept holidays on religious festivals?
Because it's number 13 on the Atheist Agenda: brutal takeover of all their precious holidays.
Nowhere. They can be found nowhere. Jinns are not real.
Can a ghost travel through space?
No, only the ghosts of Mormons who need to travel through space to get to Planet Kolob.
For me, personally, army-green crocs really do the trick. I'm also particularly disturbed by people who begin blog posts with "Sorry I haven't posted much lately". I find most country music offensive. I don't particularly like it when I'm told I will burn for eternity by complete strangers after they find out I don't share their religious belief. I am offended by people who say "I don't really read" or "I'm not really political". It's offensive to me when people overcook pasta or rice and I really find it hard to choke down when someone cooks a steak well done. "CSI Miami is such a great show" is particularly offensive to me as well as the assertion that, "Star Trek Enterprise Is the best Star Trek Series". For the most part, though, I don't make a habit of getting offended because as an atheist I realize that life is finite, there isn't another one coming after and what sort of moron would spend it feeling rotten about what other people have said to them?
Why don't atheists try and build a relationship with God for a period of time along with reading the Bible?
Why don't Christians try to build a relationship with Ganesha for a period of time along with reading The Ganesha Purana?
Do avowed atheists ever consider the possibility that their beliefs could be wrong? How would they explain themselves to the Lord upon dying? 
What is an avowed atheist? What are atheist beliefs? Atheism is the rejection of a single claim. There are no atheist beliefs whatsoever. Any beliefs an atheist may hold are due to something else. My belief that religion harms is an anti-theist belief. My belief in the power of humanity is a humanist belief. I have no atheist beliefs.
As far as how I would explain myself to the Lord upon dying goes, I wouldn't. He'd have to exist for me to do that.
As an atheist, if it turns out you were wrong about everything, will you hold it against me if I see you in the afterlife, and tell you, "I told you so"?
I'd have to make a claim to be wrong about it. As it stands, there are zero atheists claims. We don't believe you is all. We would believe if we had reason to.
Does the devil have kids on earth?
You should probably stop role-playing Jesse Pinkman in Breaking Bad. Put down the meth, call a rehab and get help.
Um. Nothing? It's still here?
He likes big butts and he cannot lie.
What does the atheist think of himself?
I don't generally think of himself, but rather herself being as I am, judging by this chest full of boobies leading my way, a lady. What do I think of myself? That's a novel. That's a memoir and a self-help book and a sci-fi fantasy all rolled into one. What do I think of myself… If I have to put it succinctly, I'm what the love child of William S. Burroughs and Doug Stanhope might have turned out to be, but with way nicer hair.
To atheists: if you can perceive the mind even though you can't feel it, touch it, and hear it, only the results of it, why can't you perceive God? 
For the same reason we can't perceive Donald Trump's intelligence. We can't perceive god because the fella ain't real.
Are atheists okay with their moms having sex with men or becoming prostitutes or pornstars?
I love my mom and I would be okay with her doing anything she truly wanted to do that didn't hurt anyone else. I recognize that I have no say in what consensual adults do so long as they are not causing harm to anyone else. In fact, my mom taught me that, but she called it MYOB. As an atheist, I don't obsess about the whereabouts of everyone else's hooha and ding-dong.
Without mentioning God, can atheists tell me where everything comes from?
No. Because we don't know. Does that make you uncomfortable?
What do I do when people tell me I'm going to burn in hell when they find out I'm an atheist?
Slowly start to tremble and moan, raise your hands to the Heavens and begin shouting in tongues. Suddenly fall to the ground and announce you've been saved. From that point forward, every time you come across the person who threatened you with Hell, ask them if they've heard the Good News.
How can I avoid atheists in Canada?
Move, eh? (Sorry)
What are your answers to these questions? Let me know in the comments!
Image: Creative Commons/Pixabay