Here's a couple of important stories you may find compelling.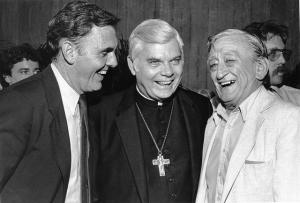 One is about a mega-report on priestly sex abuse in Pennsylvania that is about to blow wide open, and the other a rigorous analysis piece by two American law professors who conclude that President Trump is breaking a law — the Affordable Care Act (a.k.a. "Obamacare") — by arbitrarily and illegally dismantling it according to his whims.
First the priestly story:
Priests gone wild
If you thought the eye of the Catholic Church's global priest pedophilia storm already passed by a couple of decades ago, you'd be wrong.
The opening paragraph in a Washington Post article by published today summarizes the reason for renewed anxiety:
"Catholics on Tuesday were awaiting the release of one of the most sweeping investigations ever on U.S. clerical sex abuse of minors — an 800-page-plus grand jury report detailing 70 years of misconduct and church response across Pennsylvania."
The report was publicly released later Tuesday morning.
The article by Michelle Boorstein, titled "Hundreds of accused priests will be listed in Pennsylvania report on Catholic Church sex abuse," shows how the scandal's long tendrils ultimately entangle the Vatican. The report renews focus on the seemingly once-fading scandal and has prompted criticism of Pope Francis's politic handling of it.
Giving the Pennsylvania grand jury report added impetus, American Cardinal Theodore McCarrick, an enormously influential prelate in the U.S. Church, stepped down in July after being accused of sexually abusing minors and adults for decades.
Although not in a sense surprising after years of church sex disgraces, the new scandal's sweeping breadth was still stunning: 300 clergy are purportedly named in the pending report. And that's just in Pennsylvania. Forget about Catholic parishes in the rest of the nation, much less the wider world.
Church officials, trying to brace the faithful before the report's official public release, have variously described it as "profoundly disturbing," "sobering" and "rather graphic."
Trump subverting Obamacare, illegally
When the president started talking about deconstructing the Affordable Care Act (ACA), and then said, repeatedly, "Essentially, we are getting rid of Obamacare," it sounded illegal to me. Isn't Congress supposed to do that, I wondered?
According to a New York Times op-ed today by law professors Nicholas Bagley and Abbe R. Gluck, my intuition wasn't irrational.
Bagely, who teaches law at the University of Michigan, and Gluck, at Yale, said the president thus far during his tenure at the White House has "used all aspects of his executive power to sabotage the Affordable Care Act," including executive orders, directives to relevant agencies and the so-called "bully pulpit" to boast about what he was doing it.
Their jointly by-lined opinion piece emphasizes that "Mr. Trump isn't a king" and is legally required under his oath of office to "take care that the laws be faithfully executed," including, in this case, the ACA. They added:
"Faithfully executing the laws requires the president to act reasonably and in good faith. It does not countenance the deliberate sabotage of an act of Congress. Put bluntly: Mr. Trump's assault on Obamacare is illegal."
Of course, for the president to be held accountable in the short term requires that Republicans who control Congress give a damn whether laws are being broken by the nation's supreme law enforcement overseer.
Sadly, they have given no indication that they do.
Please sign up for new post notifications (top right). Shares, likes, comments appreciated!