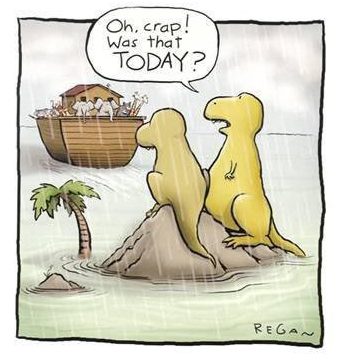 Here's yet another humor hiatus to distract from life's relentless barrage of unfunny stuff.
It's also useful, totally answering the question: Why did the dinosaurs go extinct?
What happened, according to this very perceptive comic panel is that dinosaurs scheduled to sail with Noah's Ark — T. Rexes, Brontosauruses, Pterodactyls, and all the rest — apparently didn't get the captain's reminder memo before his biblical embarkation ahead of prophesied torrential rains.
"Oh, crap!" they almost certainly exclaimed in unison, watching Noah sail off into the wild blue yonder without them, "was that today?"
The rest, as they say, is history.
Please sign up (top right) for new Godzooks posts via email, Facebook or Twitter