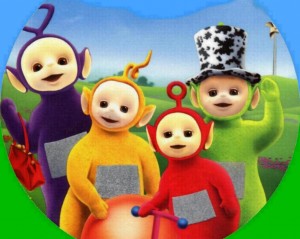 A strange phenomenon is occurring over at the Hellbound? official movie site. Last April, I wrote a blog post called Does John Piper Watch the Teletubbies?, which commented on the following quote from Piper's post Earnestness in Preaching and in Life:
The real battle in life is to be as happy in God as we can be, and that takes a very special kind of earnestness, since God threatens terrible things if we will not be happy.
Even though my post has been up for nearly a year, about a week ago it began receiving hundreds of page views each day, most of them from Google searches related to the term "Teletubbies." I'm still trying to figure out why so many people have a sudden interest in the Teletubbies, and if I find out, I'll be sure to let you know.
In the meantime, I guess I should prepare for a surge of DVD orders from Teletubbies fans when Hellbound? comes out this spring.