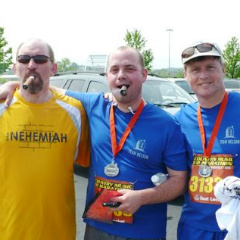 As I sit down gingerly to write this, it's Sunday, just before noon. Yesterday I ran the half-marathon here in Nashville. What was I thinking?
I'm now hobbling like an old man. Every part of my lower body hurts. My knees, hamstrings, and other parts and pieces connected by various ligaments and sinews are all threatening a sit-in — mainly because they can't manage a walkout any longer. The arch of my right foot has filed for divorce, charging physical abuse. I dreaded church this morning. We kneel at three places in the liturgy. Would I be able to get back up?
I ran with the team from Thomas Nelson, where I work. We all wore blue jerseys with the company insignia. We arrived early for a group photo at Centennial Park on the steps of the Parthenon, a fittingly Greek structure considering the origins of marathons. There were some hundred and sixty Nelson employees running that day, which is a lot but really just a foamspeck in the sea of assembled runners, who numbered over 32,000.
Lots of other companies had teams there. And there were lots of folks running for a cause, like breast cancer. The runners embodied every shape and description. Lean, all-business types. Leisurely walking sorts. I saw one guy with a spiky pink wig. Another man was done up like an old maid, complete with a cinnamon-bun wig and a blue-striped dress.
It was my first half marathon so I really didn't know what to expect. Thankfully there were several others who had run before and had lots of good advice — such as bring a little toilet paper.
The port-a-johns at the start and along the road were both horrendously foul and abjectly devoid of paper. The lines for the johns were long too. It took me about twenty minutes to empty my bladder at the start. Veterans didn't wait. They found bushes right there in the park. Even the women. My friend Brian said, "I guess we're all boys out here."
It was raining when we arrived at the start of the race. Everyone stood around trying to keep their feet dry, draped in trash bags and raincoats. It finally let up just before things got under way.
The race began at seven in the morning. They let out the runners in groups of a thousand. Once one group was off, the next troop followed a few minutes later. My group was so far back I didn't get started until three minutes after eight.
You tie a chip to your shoe so you know the exact time you clear certain checkpoints — the beginning, the fifth kilometer, the sixth mile, the tenth mile, and the finish line, which is thirteen-point-one miles from the start.
I walked the first mile, chatting with a few coworkers who were in my group. Then I started running. Jogging, really. I stopped and stretched at the two-mile mark. Didn't want my legs going gompers on me. According to the data recorded by the chip on my shoe, by the time I reached the five-kilometer mark I averaged one mile for every 14 minutes and 23 seconds. I picked up the pace a bit then and brought that down to 13 minutes and 11 seconds by the six-mile mark.
Getting to six miles was a bit of a challenge. In my training, such as it was, I never got past eight miles. I remember feeling a little drained before reaching the four-mile mark, especially when I began to figure that meant I still had nine miles to go.
I took encouragement where I could get it. I had the iPod going with a mix of Allman Brothers, Marshall Tucker Band, Lynyrd Skynyrd, and Glenn Kaiser. Nothing like a ripping guitar solo to keep up your spirits.
I also took strength from other runners. I was enlivened to encounter fellow team members, some of whom started earlier, ran faster, and were much further along. The course looped in places, so I caught these folks coming up the street as I was running down. Coming or going, every time I saw a blue Nelson jersey I smiled and ran a bit harder.
By the sixth or seventh mile it got easy. I had an energy bar to eat at the eight-mile mark. I passed it before I realized it and slowed to eat somewhere before the nine-mile mark. Not that I slowed much. By the ten-mile marker I was averaging a mile every 12 minutes and 42 seconds.
I passed a few familiar folks cheering from the road. I also passed some people cheering for the runners against breast cancer. One was a beautiful young woman, standing with a sign expressing her thanks. "I'm a survivor," it said. That made me happy. By now I was past mile ten and feeling good.
Pretty soon I was in the homestretch. I didn't weary until the final mile, which unlike the last five or so, seemed to go on forever. I was still moving quickly. I brought my time per mile down almost another dozen seconds. But that last bit was tough. When I geared up for my final push across that glorious finish line, I barely got up any extra speed. I thought "sprint." My body disagreed. Wasn't anything left.
Finish time: Two hours, 44 minutes, and 28 seconds. After crossing the line, I got my medal and a bottle of water. For some reason, I was more excited about the water just then. Then they clipped my chip and sent me through a gauntlet of folks waiting for family and friends.
Right in front of me was a full-marathon runner whose legs were taking off the rest of the day. His family held him by the arms.
I finally made my way to the Nelson tent in the parking lot and lit up a cigar. My friend Jamey arrived a few minutes later with a cooler of beer and began dispensing. "Give strong drink unto him that is ready to perish," he said, quoting Proverbs.
There were already plenty of runners assembled there. Some were so fast, they finished, recouped, and were already off to the next thing. Others came in over the next several minutes — every one bright-eyed, sweaty, and grinning like a tired Cheshire cat.
Our team leader asked us to indicate if we would run it again next year. Ha! I felt half-crippled, like I should get on the phone and apply for disability tomorrow morning. On the other foot, I thought, I just might be able to get my right arch into marital counseling before next year…
"Raise your hand," she said. That seemed a bit much. I raised an elbow.