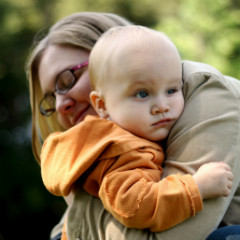 The most obvious thing to do with mothers is to celebrate them.
I watch my Megan day in and out striving to raise, nurture, encourage, protect, correct, and prepare our kids. It's a humbling thing to behold. When I say that I couldn't do it, I say the obvious. When I say that she does, I speak of the miraculous.
God has a special concern for mothers, something apparent in both the Bible and the memory of the church, which tell the story of so many noteworthy mothers. Just start with the matriarchs of Genesis. There's frank Sarah, crafty Rebekah, longsuffering Leah, and meek Rachel — women who gave birth to a nation.
Then there's Jochebed, who acted so bravely to save her son, Moses, and Moses' own wife, Zipporah, who acted so bravely to save her own. There's patient Hannah who bore the scorn of a sister wife, all the while trusting and praising God nonetheless until one day her Samuel was born.
Bathsheba's story provides a beautiful picture. Before her husband's death in 1 Kings 1, Bathsheba bows twice before David. But then when her son Solomon is elevated to the throne in the next chapter we see his deep respect and honor for his mother:
So Bathsheba went to King Solomon. . . . And the king rose to meet her, and bowed down to her; then he sat on his throne, and had a seat brought for the king's mother; and she sat on his right.
Where Bathsheba first prostrated herself, now Solomon bows to her and enthrones her by his side.
Another woman, perhaps missed by many Christians today, is Solomonia, whose harrowing story is told in 2 Maccabees 7. Solomonia was forced to watch as her seven sons were martyred at the hands of the tyrant Antiochus Epiphanes. Said Cyprian of Carthage, celebrating her fortitude, she "loved her sons not delicately, but bravely." And, pointing to her courage, John Chrysostom said, "Let all mothers hear these things, let them emulate the woman's courage, her love. . . ."
That Solomonia's sons so readily accepted martyrdom commends her parenting. She raised godly children.
Chrysostom narrowed in on this point. "[I]t isn't giving birth that makes a mother," he said, "but raising [her children] well. . . ." The first, he said, "is a matter of nature," but the second "is a matter of choice," which is to say that it takes intentionality, prayer, sacrifice, nurturing, and a good deal of determination. Saints don't happen by accident. They're raised by godly mothers.
Scripture gives us pictures of mothers like this as well. Think of Timothy's mother, Eunice, and grandmother Lois. Think also of Mary, the mother of our Lord.
The memory of the church is likewise filled with powerful examples of such women. Augustine's mother, Monica, springs to mind — a woman who prayed her son into the arms of God. And then there's Emilia, the mother of Macrina, Basil the Great, and Gregory of Nyssa.
To think of the impact that these children had on the church is to understand the vital importance of faithful mothers.