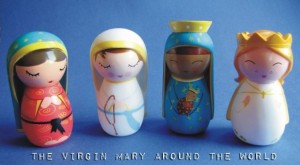 Well, these are just so cute!
The Holy Father is consecrating the WORLD to the Immaculate Heart of Mary on Sunday October 13, promoting devotion to Our Lady.  On the same day, the Equipping Catholic Families blog is hosting a Shining Light Dolls Giveaway.
The dolls are 3.5″ tall and made of rotocast vinyl: safe, durable, unbreakable and no removable parts!  They are perfect for inspiring devotion to Our Lady in our kids with their little praying faces and posture and contemporary styling that still manages to reflect the traditional images of the Blessed Mother.
FOUR winners are each going to win TWO Shining Light Dolls!!  Enter at the website.