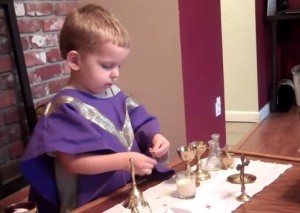 Perhaps you saw this:
The YouTube video of Catholic author Brandon Vogt's three-year-old son Isaiah "celebrating Mass" with his new mass kit was a hit on YouTube in 2012.

Young Isaiah Vogt was demonstrating what he'd learned in church, watching his pastor celebrate the Latin Rite Mass.
*     *     *     *     *
Meanwhile, across the world, children are more familiar with the Sacred Mysteries, the Eastern Rite liturgy.
I recently ran across this video from Russia, where children are playing "priest" and learning about the sacred mysteries.  (Note the frequent use of "incense" in the Eastern version.)  I don't know whether this is an Orthodox liturgy or perhaps a Byzantine Rite–but it's great to see children at such a young age thinking about their faith.