You say you put your goddess on a shelf,
Claim she comes to you upon command.
I don't understand.
My goddesses are wild and free.
Inconvenient, independent.
I don't think we know the same ones.
Rebellious.
Resisters.
Revengers.
My goddesses are wild and free.
Hunting the wicked.
Conquering monsters.
Turning fools into swine.

Riding off in a blaze of glory.
Shining pale moon beams,
Burning torches.
My goddesses are wild and free.
Do they scare you?
They don't care much for the religions of man,
Nor for his power plays.
Enduring, changing.
Fleeing, remaining.
My goddesses are wild and free.
Don't look for them on your altar, they aren't there.
Death walkers.
Truth talkers.
Trouble makers.
Impatient with fakers.
Claiming those they desire,
Casting the rest into their fire.
My goddesses are wild and free.
Ignoring my calls,
Showing up uninvited.
Forever travelling that wheel of theirs,
Leaving behind a trail,
That I must follow.
My goddesses are wild and free.
Are yours?
The Trail of the Goddess
I am forever compelled to push further, an explorer of the mysteries. A perpetual student on a quest to understand. I wonder and wander under the pale moonlight, following a dim torch towards truth. Of course, the wisdom I seek is already inside me, waiting to be unlocked. What are the limits of human understanding? I've often contemplated my own weakness in comparison to the mighty goddesses I work with. My wild and free goddesses don't reveal all to me. My goddesses gift me with glimpses of their majesty. They attend my rituals on their terms. At times, I've been ignored. Then there was the time when Circe insisted on speaking through me. They are as complex as writing about my understanding of them is.
All I can do is try to stretch out to them. Elusive. The energetic currents that they emanate are more readily available for my workings. Are these the goddesses themselves? To me, this is more like a trail that possibly leads to them. A path of discovery. Of witchcraft. Down to the Underworld. Up to The Starry Road. Their freedom nourishes me, compelling me forward.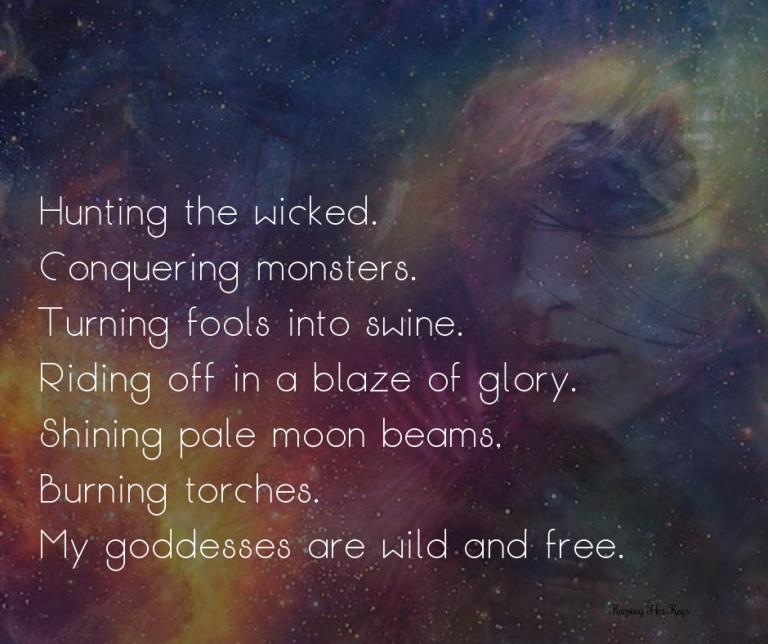 We Complete the Goddesses And They Complete Us
Are the goddesses merely projections of what we need? A mother? A lover? Are they attributes we wish to have? The answer is complicated. We do project our needs on them, but that doesn't define them. Where is that line between our projections and who they are? I've wanted to write about the way I understand my goddesses for some time. The poem above is very much how I see them. My clumsy poetry is my way of venerating these goddesses that are both familiar and foreign to me. They are projections of what I need. I also firmly believe they are far, far beyond my comprehension. What I know for sure is that my goddesses are wild and free. We complete each other.
My wild and free goddesses have taught me so much. Emulating their characteristics makes me a stronger witch. Summoning their energy currents, from drawing down the moon to petitioning their favor, is as much part of my life as breathing. I have beheld visions of them and spoken to them. However, I would never try to control them because my goddesses are wild and free.
My Wild And Free Goddesses
Artemis, Wild Goddess: Her Story, Themes, Correspondences and More
Demeter: Fertility, Fury and The Fall
A Witch's Understanding of Hekate
Persephone, Emotional Warrior Queen: Her Story, Themes, Correspondences and More
Kirke (Circe) Is A Goddess We Need Right Now: Her Story, Themes, Correspondences and More
Medea: Her Story, Themes, Correspondences, Rituals, Spells and More
Great Goddesses of Magick & Mystery: Ritual for Unleashing Your Inner Witch
Hekate and Her Four Sovereign Goddesses: Artemis, Medea, Persephone and Kirke (includes a ritual)