One of the biggest challenges for American Christians who embrace the idea that they live in a "Christian Nation" is how to reconcile the very Un-Christ-like things their Government says and does.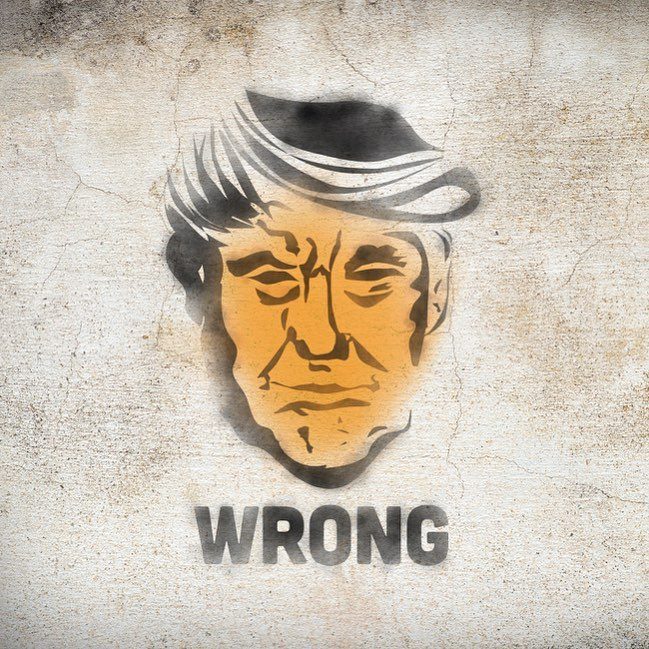 Never mind that there is zero trace of anything Jesus ever taught in any of the foundational documents, including the Constitution.
Never mind that Jesus already is a King who reigns over His own sovereign nation whose citizens are from every tongue and tribe and nation on Earth.
Never mind that the Founding Fathers – even if every one of them had actually been followers of Jesus – went out of their way to establish a Government that was most assuredly anything but "Christian" but instead made provision for the free practice and reverent observance of every religion, or none at all.
All of that aside, those Christians who insist on asserting ever-increasing influence upon the United States Government have a very serious problem: Politicians are lousy examples of Jesus.
For example: The man who is currently the President of the United States claims to be a Christian. Just like the President before him, and the one before him, and the other 40 before him.
Here's the issue: Presidents of Empires are not submitted to Christ.
For that matter, Empires are not submitted to Christ either.
So, when the professed "Christian" leader stands up in front of millions of Americans and boldly contradicts Jesus, it should really concern these Christians.
For example, if an American President should stand up and say:
"Around the world, we face rogue regimes, terrorist groups, and rivals like China and Russia that challenge our interests, our economy, and our values. In confronting these dangers, we know that weakness is the surest path to conflict, and unmatched power is the surest means of our defense."
This should cause every true follower of Jesus to gasp in horror and disbelief; "Did the President of the United States just contradict Jesus, Paul and the entire New Testament?"
Yes. Yes, he did.
But how did most American Christian leaders react to this? Largely by applauding the President, agreeing with him, and celebrating just how "Pro-Christian" he is.
Wait, what? Oh, yes. They did.
This is the problem. Most American Christians weren't even aware that the President had contradicted their Lord and Savior at all.
Why? Because most of them don't take Him very seriously.
Jesus, the guy they claim to follow and worship, actually said that showing weakness is not the "surest path to conflict" but the surest path to peace.
"You have heard that it was said, 'Eye for eye, and tooth for tooth.' But I tell you, do not resist an evil person. If anyone slaps you on the right cheek, turn to them the other cheek also."
"You have heard that it was said, 'Love your neighbor and hate your enemy.' But I tell you, love your enemies and pray for those who persecute you, that you may be children of your Father in heaven. He causes his sun to rise on the evil and the good and sends rain on the righteous and the unrighteous. If you love those who love you, what reward will you get?" (Matt. 5:38-47)
Paul, the Apostle who wrote most of their New Testament scriptures, also loudly affirms the power of weakness, saying:
"Therefore I will boast all the more gladly about my weaknesses, so that Christ's power may rest on me. That is why, for Christ's sake, I delight in weaknesses, in insults, in hardships, in persecutions, in difficulties. For when I am weak, then I am strong." (2 Cor. 12: 9-10)
The whole "unmatched power" comment by the sitting President is also very curious in and of itself, since America is already the most powerful military force on the planet, spending more on military defense than the other 7 largest nations combined.
If it were actually true that "unmatched power is the surest means of our defense", as he said in his televised speech, then isn't this nation already the most well-defended nation on the planet?
How much more "unmatched" do we need to be?
It also makes the rest of his speech even more insane as he goes on to say:
"For this reason, I am asking the Congress to… fully fund our great military."
If the United States military spending is already billions more than what other nations spend on defense, then in what way is the US military not "fully funded"?
Keep in mind that when any US President uses the phrase "our great military" in reference to increased government spending on the military, that is not a reference to the men and women in uniform. Almost none of that "military spending" makes its way to the pockets or bank accounts of actual soldiers.
No, what they mean is simply this: Billions more dollars in Government contracts for weapons manufacturers like Lockheed Martin, Northrup-Grumman, Boeing, Raytheon, etc.
Those corporations are not hurting for cash.
They already received billions of dollars to build weapons,
many of them the Pentagon specifically admits
they
do not want
, or
need
. But they build them anyway because Congress funds their contracts.
But I digress.
The most offensive statement spoken by the President of the United States, to me at least, was this one:
"As part of our defense, we must modernize and rebuild our nuclear arsenal, hopefully never having to use it, but making it so strong and powerful that it will deter any acts of aggression. Perhaps someday in the future there will be a magical moment when the countries of the world will get together to eliminate their nuclear weapons. Unfortunately, we are not there yet."
I guess this statement offends me the most because Jesus is the Prince of Peace. If anyone claims to follow Jesus, then they are, by default, saying that they also follow the Prince of Peace.
Now, could anyone have any better ideas about how to achieve peace than the actual "Prince of Peace"?
The truth is: Jesus has already shown us the path to peace, we just refuse to believe Him or walk in it.
America already has enough nuclear weapons to pulverize the planet twenty times over. Has this strong and powerful nuclear arsenal deterred any acts of aggression?
None at all.
America is still engaged in warfare all over the world, as it has been for 222 years out of the last 239 years of its existence.
This "magical moment" is spoken of facetiously, not hopefully. There is not even an attempt to pretend to even want such a day to come.
When one says, "we are not there yet", I have to ask, "Why not?"
The promised Messiah has come. He, as the Old Testament prophet Isaiah promised us, was the One who would "teach us His ways so that we might walk in His paths".
And where does His path lead us? Well, according to that same prophet, if we follow this Messiah then He will teach us to "beat our swords into plowshares and our spears into pruning hooks" so that "nations will not take up arms against other nations, nor will they study war anymore." (See Isaiah 2:3-4)
To me, our "magical moment" took place almost 2,000 years ago.
When this Messiah was born a legion of angels appeared in the heavens shouting "Peace on earth! Goodwill to all mankind!"
When this Prince of Peace arrived, he affirmed the path of peace and the power of weakness.
He told us "My Kingdom is not of this world. If it were, my disciples would fight."
But it's not, and so we don't.
Jesus – the One this President and every other US President has claimed to follow – told us this:
"Peace I leave with you; my peace I give you. I do not give to you as the world gives. Do not let your hearts be troubled and do not be afraid." (John 14:27)
Just in case you've not been paying attention, this is how the "world gives us" peace:
"In confronting these dangers, we know that weakness is the surest path to conflict, and unmatched power is the surest means of our defense….As part of our defense, we must modernize and rebuild our nuclear arsenal, hopefully never having to use it, but making it so strong and powerful that it will deter any acts of aggression."
But this is NOT the way that Jesus brings us peace. His peace is based on loving our enemies, turning the other cheek, and blessing those who curse us. His peace involves admitting that we have been trying this way – building stronger weapons and bigger armies – for millennia now. None of this has ever led us to peace. It has only led us to more violence.
Peace is not based on stockpiling nuclear weapons capable of vaporizing the entire planet several times over…and then claiming that we just need a few hundred more to make sure.
At what point do we admit the insanity of this way of thinking?
Remember: The definition of insanity is doing the same thing, over and over, expecting different results.
A very wise man once told us: "Those who live by the sword will die by the sword." But no one takes that guy very seriously anymore. At least, no one who has an Empire to lead.
Perhaps this is why Leo Tolstoy was prompted to write:
"All churches that unite with state power are not only un-christian, but are always the most vicious enemies of Christianity."
Of course, all of this could very easily be remedied if Christians in America would untangle themselves from the Empire and pledge allegiance to the Lamb of God.
Then there would be no confusion about who they follow and what they believe. They could get on with their mission to live out the Gospel and demonstrate the transformational power of Christ to make us new creatures who overcome evil with good.
At the very least, if we could untangle our faith from politics, there would be no opportunity for the leader of an Empire to call himself a "Christian" while contradicting everything that Jesus stood for.
To be clear: I am NOT saying that Empires should be run according to the teachings of Jesus. I'm saying that Christians should not be running Empires.
Let those who follow Jesus get busy following His commands to love God and love others until the kingdoms of this world become the Kingdom of our God.
**
Keith Giles is the author of the Amazon Best-Seller "Jesus Untangled: Crucifying Our Politics To Pledge Allegiance To The Lamb" and he also co-hosts the Heretic Happy Hour Podcast. He lives in Orange, CA with his wife and two sons.