Last night, the televised third and last debate was held between Hilary Clinton and Donald Trump for the U.S. presidency. Right after that, CNN had a panel of political analysts, both Republican and Democratic, express their views about this debate. It seems to have been held outdoors or at least in an indoor area in which people in the near background were free to stand and watch and move about. Many of the people who did this held up signs that said various things. One small sign said, "Hilary Queen Mother."
Some of these people were obviously associated together because they were holding up the largest signs, all of these signs had various messages in a light green color with a pitch black background that really stood out, and all of these messages were about Jesus, usually in very big letters. The following were most of those messages:
"Ask Jesus to Save You Before It's Too Late"
"Don't Give Up Talk to Jesus"
"Seek the Living Jesus"
"Seek Jesus Not Church"
"Today's Churches Are Corrupt. Seek Jesus All Alone While Its Not Too Late"
It surprised me that the CNN network allowed this freedom of people showing signs behind a panel of experts discussing about a serious subject for our country–who between Hilary Clinton and Donald Trump would make the best president. Even as a devout Evangelical Christian, I thought these signs were annoying. The purpose of these sign carriers was to disrupt the panel discussion and draw attention of television viewers to these messages about Jesus. Surely CNN executives would have wanted those sign carriers to go away. The allowance of these signs certainly was a witness of our nation's democracy.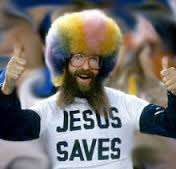 There probably were many television viewers of that CNN broadcast who were curious about who those Jesus freaks were. I think I know. It may have been people who used to be associated with Rollen Stewart. He is the guy who started this phenomenon of showing signs with messages of Jesus at televised events. He did it for many years back in the 1970s and 1980s at professional sporting events. One of the first and main sports where Stewart did this was at PGA Tour tournaments. Yes, I knew Rock'n Rollen. What a character. His nickname was Rainbow Man because he always wore a big rainbow wig. Rollen Stewart is now serving a life sentence in a California prison. It's a sad story. See my post about Rock'n Rollen on December 13, 2015, "
Hal Lindsey and Rock'n Rollen Stewart
."