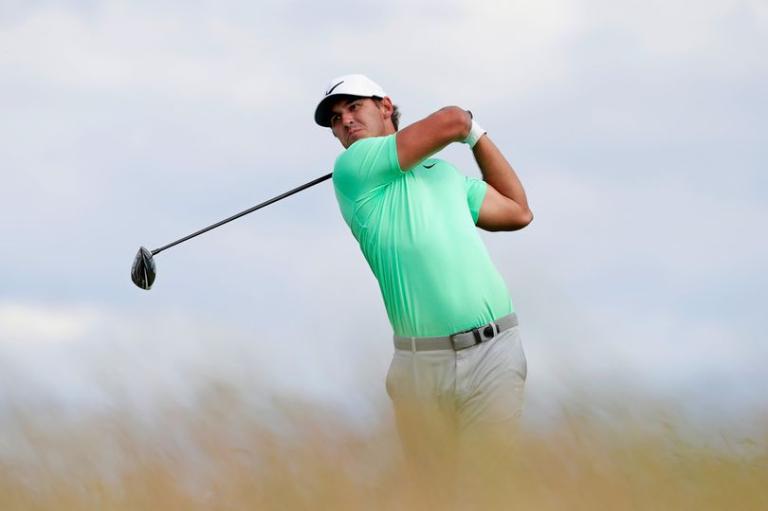 Today, a star was born in the world of golf. Twenty-seven year old Brooks Koepka won the U. S. Open Golf Championship at Erin Hills in Erin, Wisconsin by four strokes with a record-tying 16 under par 272. And he appeared so nonchalant about it, just like it was an easy stroll in the park. Nothing to it. No fist-pumping, no jumping in the air, no cracking a smile. We finally saw him smiling on television when it was all over.
Brooks Koepka played the role of a world beater today, coming from behind by four shots starting the day to shoot a 67. He was clutch. He made sizable putts on four successive holes–13th, 14th, 15th, and 16th, the last three being birdies–rolling the ball right in the middle of the cup every time at the perfect speed. But he didn't win it only with his putter. Brooks had the best greens-in-regulation statistic for the week.
But the most impressive part of Brooks Koepka's golf game is his long drives. On the last hole today–a par five that measures 680 yards–he hit his three metalwood right down the middle of the fairway a whopping 379 yards. If he would have hit his driver, it conceivably could have gone over 400 yards. As Bobby Jones said of Jack Nicklaus' prodigious drives when Jack won the 1965 Masters, "Nicklaus played a game with which I am not familiar."
Many golf fans may be saying, "where has this guy been?" Actually, Koepka started the week in 25th position in the Sony World rankings. He turned pro in 2012 and played the Challenge Tour in Europe and then the European Tour his first three pro years, winning five tournaments. Then he qualified for his first U. S. Open in 2014, finishing a very respectable 4th. That earned him his PGA Tour card for the 2014-2015 season.
Those of us who live in the metro-Phoenix-area in Arizona soon learned that Koepka could be headed for many Tour victories when he won The Waste Management Phoenix Open in 2015. Later that year, he finished 10th in the British Open and 5th in the PGA Championship.
Brian Harman started the last round today, leading by one stroke. He held it together, tied with Koepka early in the back nine, before bogeying the 12th and 13th holes. He finished the tournament tied for second with Hideki Matsuyama at 12 under par.
Athletic-looking Brooks Koepka was an All American soccer player in college at Florida State. His father has been a gifted athlete as well. Brooks had won only one tournament on the PGA Tour, here at Phoenix, until today. It was amazing to me that he said in the presentation ceremony that he felt "confident" throughout the entire round today. He should be, overpowering a golf course like he can. He's the same as his best friend on Tour–#1 in Sony World rankings Dustin Johnson. Brooks looks like he is headed for stardom just like Dustin.
The long hitters are taking over the world of professional golf. I guess all golfers need to get in the gym and bulk up. Gary Player and I were the only guys predicting over forty years ago this would happen, and everybody laughed us to scorn. But no more. We've got the laugh.