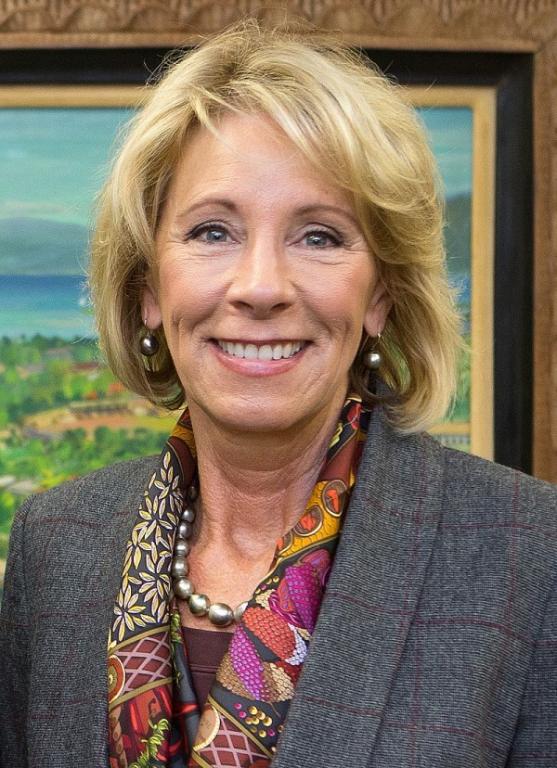 Cecil Township, Pennsylvania – A riot broke out when Secretary of Education Betsy DeVos arrived at the Huntington Elementary School's March Madness Bake Sale with several AR-15s. She intended to sell the assault rifles alongside brownies, Congo bars, and magic squares.
"We need to ensure the safety and financial health of all of our soon to be private schools," Secretary DeVos said. "These AR-15s were anointed by Jesus through my family's minister. The sale of one will get this school more money than selling all of Mrs. Hurley's brownies."
Mrs. Hurley refused to comment.
Local Republicans heralded Secretary DeVos' bold move to bring bump stocks along with the deadly weapons. If teachers at the school wished to purchase the rifles for themselves, then they would have the option to increase their rate of fire. "Being the consummate professional, Betsy made sure she brought large capacity magazines to go along with the bump stocks and AR-15s," staffer Andrew Canard noted.
Secretary DeVos' visit is coinciding with Pennsylvania's 18th congressional district's special election. President Trump won the district by 20 points. Experts believe the Democratic challenger may just win the contest. That's why the Secretary of Education was sent. She was supposed to court soccer moms and their Pop Warner coaching husbands.
Instead, things went horribly wrong.
"In retrospect we should've seen that coming. Secretary DeVos was attacked by 4th graders a few months ago," Andrew Canard sighed. "The students here are planning to join the protest against gun violence on Wednesday. Maybe bringing Ar-15s, bump stocks, large capacity magazines to a bake sale under these circumstances was a bad idea. Maybe."
Within minutes of Secretary DeVos revealing her deadly contribution to the fund raiser students from all grades threw baked goods at her. No mercy was shown. No quarter given. Things got serious when the third graders found bottles of water, cracked them open, and hurled them at the Secretary.
Within minutes Secretary DeVos was rushed away from the event and out of Pennsylvania's 18th congressional district.
However, the AR-15s were left behind. Angry students and teachers destroyed them.
The White House has yet to comment on the incident.
---
I have a Patreon account just in case you wish to show your appreciation for my work here on Laughing in Disbelief.
---
Andrew Hall is the author of Laughing in Disbelief. Besides writing a blog, co-hosting the Naked Diner, he wrote two books, Vampires, Lovers, and Other Strangers and God's Diary: January 2017
.
Andrew is reading through the Bible and making videos about his journey on YouTube. He is a talented stand-up comedian. You can find him on Twitter, Instagram, and Facebook.
---
Stay in touch! Like Laughing in Disbelief on Facebook: