A couple years back, I watched a documentary called For the Bible Tells Me So, which looks at five Christian families with gay or lesbian children. Something one of the mothers said really struck me. She said that after her daughter first came out, and introduced her girlfriend, all she could think about was her daughter and her girlfriend having sex, and how disgusting that was. She said that over time, she was able to make a sort of peace with her daughter because she began to see more than that, to see how her daughter and her girlfriend created a life together, supported each other, and loved each other. She began to see their relationship in a more holistic way, instead of simply thinking about lesbian sex every time her daughter mentioned her girlfriend.
I think there's something to this. I remember my mother visibly shuddering in disgust whenever the topic of homosexuality came up, and telling us as young children that being gay meant men kissing on men, and women kissing on women, and wasn't that disgusting? It seems to me that a lot of the worst homophobia stems from looking at a gay person and seeing the "disgusting" sex they have, rather than seeing a person, a person with passions and interests and likes and dislikes and dreams and, well, a life. So much of the discussion of "the homosexual lifestyle" centers on this idea that gay people spend their lives obsessed with going from bar to bar for sex rather than, well, having a range of interests and forming a range of relationships.
All of this was brought to mind by a comic-style book published in 1986.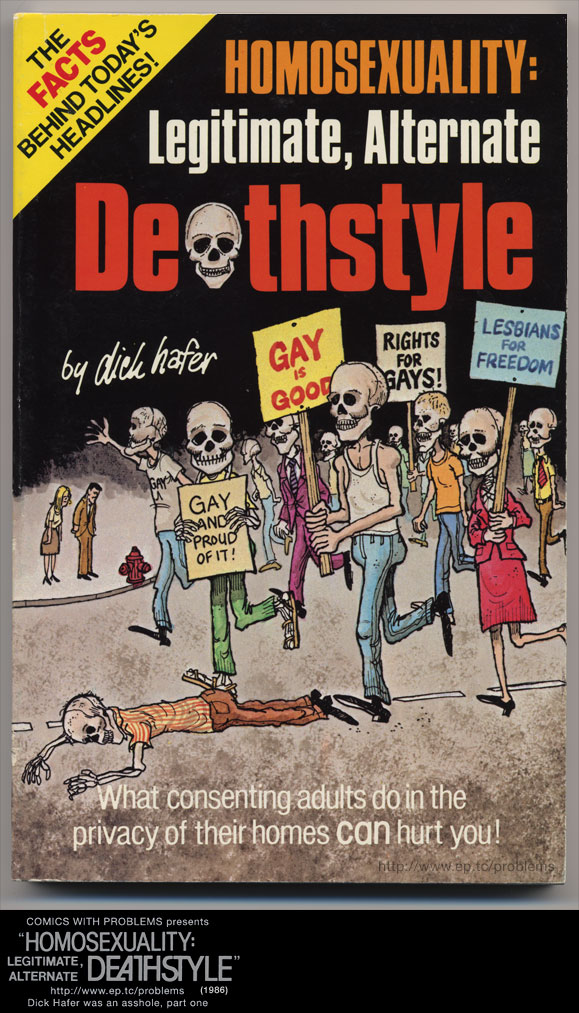 While I don't think it has wide circulation today, the book was pretty popular among fundamentalist Christians when it was published. It was published at the height of the AIDS epidemic, and the same year Bowers v. Hardwick upheld the constitutionality of anti-sodomy laws. In other words, it was a hard time for the gay rights movement. You can view a lengthy excerpt of the book here, but what I want to do here is to highlight two contrasting page spreads.
The first provides a timeline of the heterosexual life: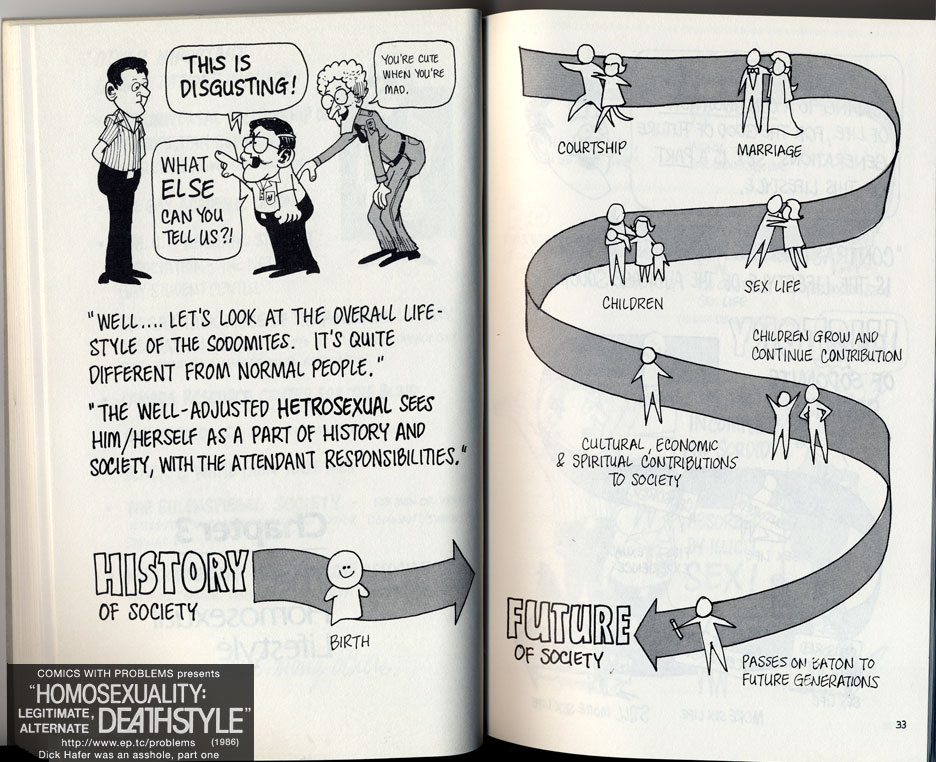 Heterosexuals, you see, do things like marrying, raising children, and contributing to society culturally, economically, and socially. At the end of their lives, heterosexuals pass the baton to future generations.
Now, compare all of this to the book's timeline of the homosexual life: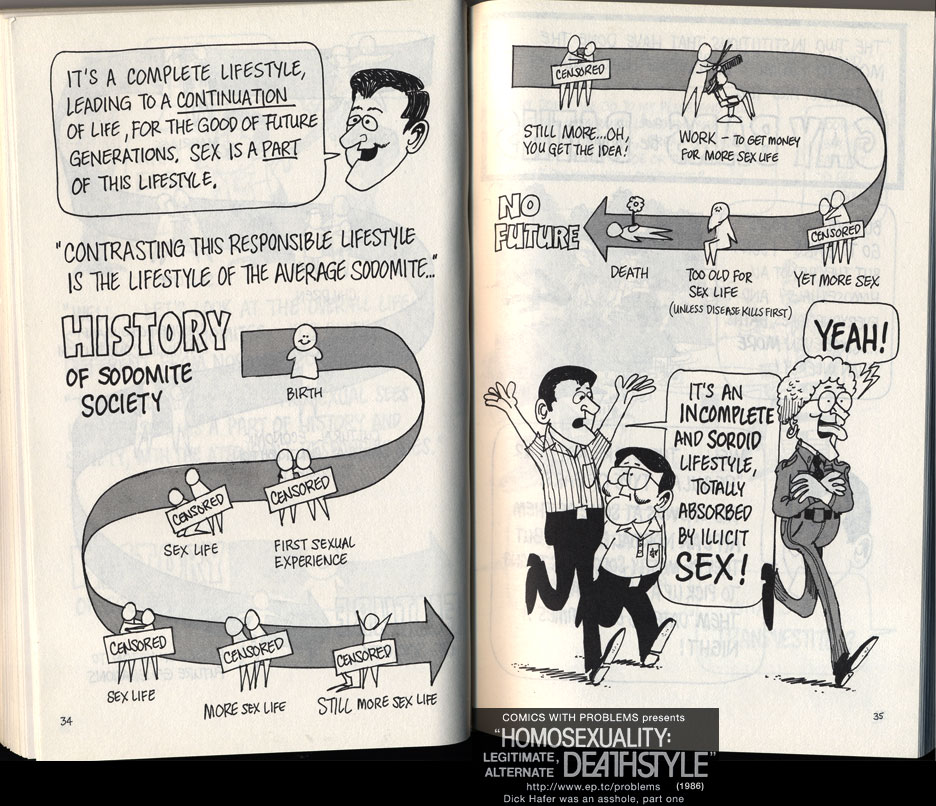 Apparently, all homosexuals do is have sex. They don't form long term relationships, they don't raise children, and they don't even contribute to society culturally, economically, or culturally. Instead, they're simply obsessed with sex. Even when they go to work, it's just "to get money for more sex life." Heterosexuals invest in other people and create things that last, but homosexuals just . . . have sex.
I guess I've just never seen heterosexuals' obsession with homosexual sex outlined so clearly before. Heterosexuals = holistic people with lives. Homosexuals = sex. I mean, seriously? There's definitely something disgusting here, but it's not gay sex. It's this absolute and total dehumanization of actual people and erasure of real accomplishments and contributions.
And there's more, too. Have a look at the extended excerpt. You'll find pages like this and this. I rest my case.