Maya Angelou, a poet, a writer, an activist, an icon of world literature and one of the greatest voices of equality and liberty, has passed away.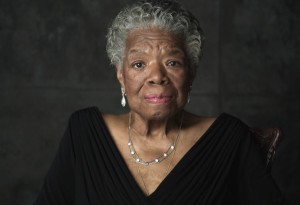 She was a great poet. She was instrumental in my own life when I read her memoir I Know Why the Caged Bird Sings.
I found her book to be first and foremost honest and uncensored, brutally so. I cannot begin to imagine the courage needed to write such a book – an absolute open view of a great mind. This book is not a slice of life but all of it, in all its beauty and ugliness. As a Persian, who is a member of the oppressive majority in my own culture, I learned a lot about racism and what it does to its victims, as man I learned a lot about femininity and the female condition, biologically and psychologically, I learned about rape and its destructive effect on the victims, I learned about poverty and a the culture of the south and east. I learned more in the three days I spent reading this book than my entire life. I can say in confidence that this book made me a better person.
But there were familiar things in the book too, her love of literature and art, and finding salvation there. Maya Angelou was a brave woman – she was my hero. She not only opened up to the whole world and bared her soul, she overcame hatred and malice, racism, sexism, poverty, and the horrors of her life to become a towering monument of American culture. Like her with Shakespeare, "I met and fell in love with Maya Angelou".
Among her poems my favorite is "Still I Rise". Read it here.