When one has touched as many hearts and has brought joy to as many lives as Robin Williams did, whom we lost yesterday, your life, although a unified whole, will mean something specific to each different person who mourns your passing. In that sense every great man or a woman is like a poem, as it will be read across the world and throughout the history, and each reader will remember a different line, and it becomes a different poem for every reader. In the end, mourning a man as great as Robin Williams will reveal as much about the mourner as the one we've lost, and it is there that their true greatness lies.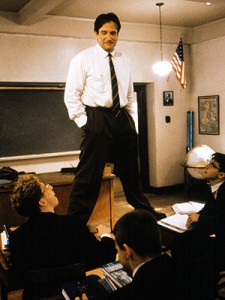 To many, Robin Williams was a comedic genius who graced the stage with his courageous wit. To them, he was rebellious and uncompromising, and a tortured soul. To many he was the kind and gentle actor who played light comedic roles in movies like Good Morning Vietnam, Hook, Mrs. Doubtfire, and Jumanji. To many he was the great and skilled serious actor of movies like Awakenings, Insomnia, Good Will Hunting, and One Hour Photo. To many he was the genie of Aladdin. And all of them are right – the man was complex, a true artistic genius, with fascinating range, who could easily portray the darkest and the brightest, as they all possibly defined his lived experience as well. He contained multitudes.
To me, he always, and always will be, John Keating of Dead Poets Society.
To me, Walt Whitman, Abraham Lincoln, Peter Weir, and Robin Williams are forever associated with one of the greatest poems ever composed, "O Captain, My Captain". For a lover of literature, a great poem can mingle even more with their lives, and for me  "O Captain, My Captain" is such a poem. On the one hand it represents Abraham Lincoln, one of my political heroes, and on the other it reminds me of its masterful rereading in the movie (I unfortunately have not read the novel it's based on), which in turn represents the love of literature in general.
I must have seen Dead Poets Society at least twenty times – I saw it when I was a teenager, and at that time Robin Williams's character represented everything I yearned and didn't have. I was trapped with unsympathetic teachers and classmates who alienated me for my atheism, my love of literature, my failing to adhere to masculine standards enough. And John Keating was everything I desired in a teacher – a great lover and promoter of poetry, wise, sympathetic, rebellious. John Keating was an incarnation of liberty, that fleeting dream of every Iranian and Iranian generation. John Keating was a man who lived free. He was the tangible embodiment of the abstract values I held dear.
John Keating was my role model. He was the figure I turned to for inspiration when I became a teacher myself. John Keating was a turning point in my life.
If they tell me what is the greatest movie of all times, I would say Seven Samurai. If they ask me what is your favorite movie of all times, I'd probably say Dead Poets Society. And if they ask me which performance moved you and was the most instrumental performance in your life, I would say Robin Williams in Dead Poets Society.
For he would be impossible without his impeccable acting. John Keating could easily have been a bombastic and ridiculous figure. Only a great actor could find the correct way to represent him correctly, and Williams did so. And not only that – a great man also. When Keating speaks with passion, only someone in whose heart an equally burning passion lives could make it genuine and believable. He gave Keating life, he made him grand and human at the same time.
This is a part of the statement released by Susan Schneider, his wife:
As he is remembered, it is our hope that the focus will not be on Robin's death but on the countless moments of joy and laughter he gave to millions.
Let us do so. Let us ask ourselves, what was his verse, as John Keating asked his students "What your verse will be?" And his verse was not one verse but many – Robin Williams has died, but his verse will live, and that is the closest thing we can have to immortality. Years from now, every child who smiles when watching one of his movies, every lover of cinema moved by his powerful acting, every lover of comedy moved by his stand ups, and every teacher inspired by his great performance – they will all remember his verse.
People of wildly varying tastes have come to his tribute, and share the sorrow of his family. Because he contained multitudes, he will be remembered by multitudes.