Tree Medicine Tree Magic by Ellen Evert Hopman is an outstanding book for anyone who wants to learn about and deepen their working with trees. In the book you will find poetry, folk lore, herbal lore, Native American lore, mythology, druidic insights, practical and medicinal uses of nineteen of the most common trees in North America and Europe. These nineteen trees include Oak, Pine, Ash, Willow, Holly, Hawthorn, Hazel, Birch, Rowan, Apple, Eucalyptus, Elm, Maple, Chestnut, Cedar, Poplar, Larch, Walnut and Elder.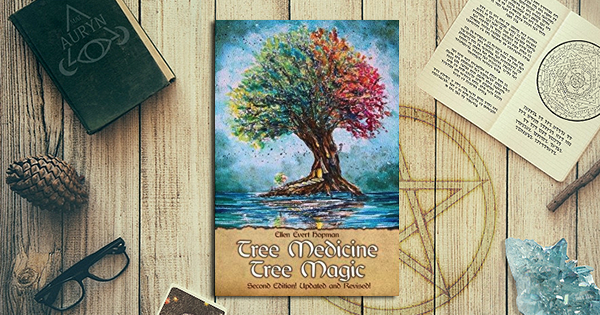 Hopman's love and connection with trees definitely shines through each page, and as a master herbalist, homeopath, and druid – the book is not only informative but full of wisdom. In the introduction Hopman writes her intention for the book, "I wish to remind the world of the beauty and poetry of the large trees that are being decimated everywhere to make room for parking lots and shopping malls, to make paper and wood products, and through the destruction of rainforests and wildlands. My second intention is to bring to public awareness how useful natural medicines are, how easy they are to prepare, and how available they are year round in our back yards."
She definitely succeeds in showing how easy and practical it is to work with trees, providing many recipes and remedies throughout the book. Despite the plethora of information provided within Tree Medicine Tree Magic, the book is written in such a clear and easy-to-follow style that makes this book accessible to anyone of any experience level. This new second edition put out by Pendraig press is revised and updated from the original and has a much deserved upgrade design-wise from the original first edition and includes beautiful full page colored botanical drawings of each tree, which is incredibly helpful.
Connect With Me


Website | Tarot Readings | Facebook | Twitter | Instagram | Tumblr | Mailing List