One Muslim women's group in India has drafted a set recommendations to codify Muslim Personal Laws, calling for the abolishment of oral divorce and polygamy.
In a Senegalese fishing town, mothers and wives of illegal migrants who died on their way to Europe have started an association, which creates financial opportunities for these "sea widows" and speaks out against illegal migration.
A young Afghan couple has been released from custody by the police; the couple was facing death threats from her family and criminal charges by Afghan authorities, that were later dropped. She is a Sunni Tajik and he is a Shi'a Hazara and they had eloped to get married.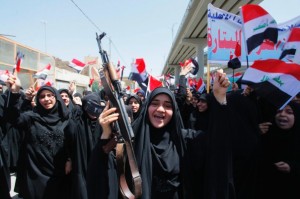 When female Mauritanian activist Aminetou Mint El-Moctar called for a fair trial for a man who allegedly left Islam, one religious group in the country issued a horrendous threat against the woman on social media.
According to a report by the UN thousands of Moroccan women have been forced into prostitution in Arab Gulf countries.
Thousands of Pakistani women are suffering from obstetric fistula, caused by stressful, obstructed labour, which is particularly common in pregnancies in physically immature women.
Two Muslim women and several Jehovah's Witnesses face up to six years imprisonment in Russia for organising an "extremist" religious community.
Qantara.de features an article on women's movements in transitioning Arab states.
The hashtag "we will (sexually) harass men" has been trending in Egypt; it was the number one hashtag on Twitter earlier this week, but not everybody was equally enthusiastic about this.
OZY profiles Kübra Gümüşay, a German Muslim journalist.
An volleyball match between Brazil and Iran sparked a protest against the ban of Iranian women in stadiums. Women with Brazilian passports were allowed to enter the stadium.
One 17-year-old Kenyan student has been attacked, allegedly, by a group of her class mates, who accuse her of participating in un-Islamic activities.
The Indonesian government is planning to close down the red-light-district of the city of Surubaya, one of the largest in the region, but the people who work and live in the area are against this.
A Muslim woman in the UK has been killed in an alleged knife attack in a park earlier this week; police say that her Muslim attire (a headscarf and dress) may have been a factor for the attack.
A new initiative in cooperation with Oxfam Novib aims to increase women's participation in politics in the Arab world.
Anjum Rahman, an accountant in New Zealand, has hopes to become New Zealand's first female Muslim MP.