By Layla Abdullah-Poulos
Yeah, blogs are my thing. Not only do I write one, I am voracious about reading as many as I possibly can because they offer a range of perspectives on a variety of issues.
Blogs represent diversity in thought and perspective. Unlike mainstream media and transitional blogs with just as facetious and ostensibly "objective" facts and positions, a savvy blogger comes with their admittedly-subjective take on things, often with an unabashed attitude, which I love.
Like any reader, my fondness for my fellow bloggers doesn't mean I read all of them (which is impossible) or even some of them all of the time, and when it comes to that big leap into a subscription relationship, I'm like the Runaway Bride.
There are many reasons why a blogger may get me to the level where I put my email address in the subscribe box. The most common one is that they offer me a new or empowering way to think about things.
So, in honor of the expected end-of-the-year article listing either something about the past or anticipated year, I've comprised a list (in no particular order) of inbox mainstays and newcomers who made my 2017 reading interesting and whose work I will be watching out for during the coming year.

With titles like "He's not leading you on, sis, you are," "Muslim Marriage: Marrying for Sexual Pleasure," and "5 Reasons why Muslim Men Must Work Out," the blog offers a plethora of fascinating information and viewpoints.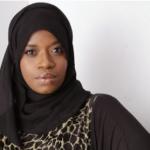 Favorite 2017 Article: Alpha men don't marry Alpha women.
Being masculine or feminine in energy is not simply about accomplishments, career choices, or any outer attributes. In fact, a person can be extremely masculine or feminine on the outside (many play this card well), but their energy speaks to the opposite nature. Since opposites attract, the magnetic pull a man who has more feminine energy will feel towards a woman who has a masculine nature, will be stronger than that of a woman who operates in her feminine and a man in his masculine.
Next: Margari Aziza