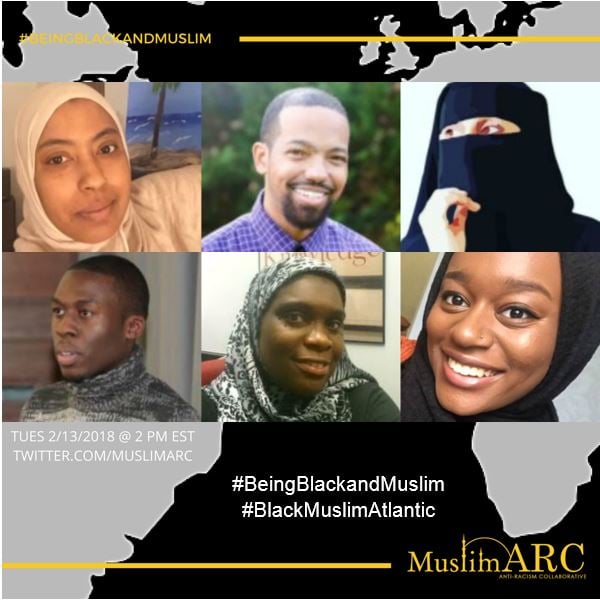 Alhamdulillah, the Muslim Anti-Racism Collaborative (MuslimARC) hosted another successful #BeingBlackandMuslim Twitter town hall.
By Lyndell Williams
This year's town hall focused on the Black Muslim Atlantic-a new initiative launched by, Margari Aziza. The MuslimARC co-founder and managing director explains how the initiative promotes transnational intellectual and artistic exchanges and mutual resistance among Black Muslims globally:
The Black Muslim Atlantic is looking at past connections when Muslims from Africa, Europe, the Caribbean and the Americas shared ideas and produced a unique and transcendent culture. We can look at that richness and heritage and glean it happening now on social media, where we are networking, sharing and debating each other. – Margari Aziza
Check out the NbA Muslims and About Islam interviews of Aziza and the #BeingBlackandMuslim and the #BlackMuslimAtlantic.
Anchors
Anchors for the Townhall will be:
Layla Abdullah-Poulos, history professor, managing editor, NbA Muslims (@LaylaAPoulos)
Habeeb Akande, Islamic scholar, and author (@Habeeb_Akande)
Mikel Aki'lah, poet (@Afrohijab)
Sakinah Kaiser, writer, blogger and mental health advocate (@TheMuslimHippie)
Na'ima B. Robert, author (@NaimaBRobert)
Hanif J. Williams, youth organizer, podcast and online radio host (@HanifJWilliams)
Synopsis
Below is a synopsis of the town hall.
Note: Anchors responded in the comments section of each question. Click the question to read what anchors posted.