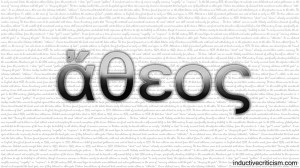 I recently took part in a roundtable discussion with my fellow Patheos bloggers James Croft, Peter Mosley, and Kaveh Mousavi about the two general ways atheists engage religious believers. James and I consider ourselves to be diplomats in the culture wars, whereas Peter and Kaveh adopt the firebrand or "anti-theist" approach.
In the first post, "Listening to the Anti-Theists," Peter and Kaveh explain what it means to them to be anti-theists, and James and I explain what we think it means to be diplomats in "Listening to Atheist Diplomats." The final post in the series, "Anti-Theists and Diplomats: The Roundtable," lets us address any discrepancies or points of agreement that were raised in the first two posts.
Head on over and join the discussion — whether you're an anti-theist, diplomat, or something else entirely.
Image via Emyll Somar at Flickr