As part of our new sermon series The Jesus I Never Knew Sunday I challenged Mt Vernon to read the book of Mark in one sitting and share their thoughts. It took me about 45 minutes this morning to read through the book of Mark. Here's what struck me: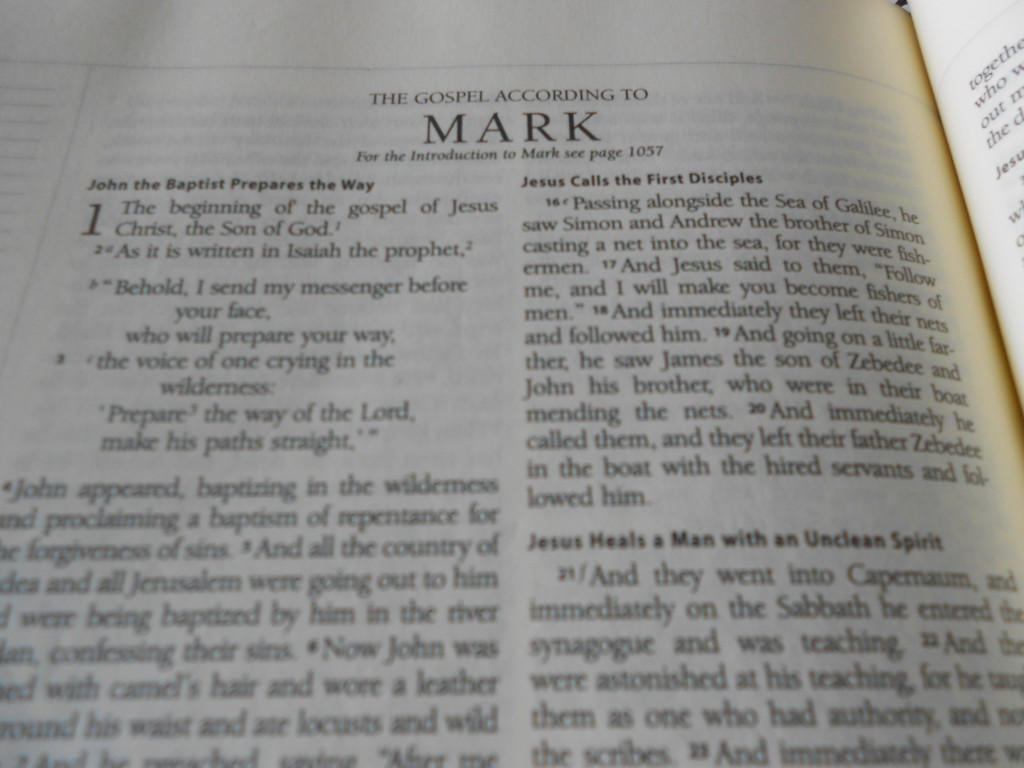 The crowds were quick to materialize. The poorest of the poor, it must have been a region and people desperate for any good news. I think Jesus would have had a tougher time gathering a crowd if he came today and had to compete with football, movie premieres, and ball practices.
It seems like Jesus intentionally ticked off the religious leaders. Or at least that's how Mark records it. Every chapter seems to have something else Jesus did to make them mad. Jesus grew up in that society and he well knew the rules. He just chose to break them.
It's amazing how quickly the religious leaders saw Jesus as a threat. Even from the opening pages they were figuring out ways to get rid of him, a threat to their way of life.
The story of Jesus commanding the waves to be still has always been an odd one to me. How could he have stayed asleep if the waves were engulfing the boat? What's odder to me is the disciples reaction when Jesus calms the waves. They were afraid. They'd seen him do miracles before, but something about this one was different.
I'm always amazed at the death of John the Baptist. Here he was, God's messenger, devoted to God since birth, and this is how he dies? Beheaded by the whim of a girl? It's proof that God's kingdom is not of this earth. If John's end was this lowly, who are we to demand any better?
Jesus seems to turn a corner in Mark 7 and starts laying into the religious leaders. He's no longer just breaking their traditions, now he's dressing them down publicly and rebuking them. There's no way they would stand for this.
I don't know what was a stronger motive for the religious leaders to kill Jesus: the fact that they were threatened by Jesus' teaching, or the fact that they were insanely jealous of Jesus' following. The crowds loved him in a way they never loved the religious leaders.
How hard must it have been to include Mark 8 and 14? The writer of this gospel is Mark, who was not one of the twelve apostles. But scholars believe that he got all his information from Peter. This is Peter's telling. And yet he chose to include those two chapters, where Jesus calls Peter Satan and Peter denies Jesus. It takes a strong man to include those low points.
It always seems to me like Jesus is a little harsh to the Rich Young Ruler (Mark 10). This guy just wants to follow Jesus, and Jesus makes him sell all his possessions first? My selfish self wants it to be okay to pursue Jesus and money at the same time, but Jesus would not allow that.
I'm always astonished by the crowds. Jesus had the crowds. But he never sought the crowds. He was focused on his disciples and his mission. What does that mean for churches that simply seek the crowds?
Jesus doesn't give his disciples a sunny picture to look forward to. They will be persecuted, tried, and killed for their faith. What keeps them devoted? They cannot deny that Jesus is from God. What will you give up for God?
Mark 15 doesn't make sense from a human perspective. Jesus has shown miraculous powers now for fourteen chapters. Nature, the human body, the spirit world, all under his command. And yet he allows himself to be tortured and executed without fighting back?
That's what stands out to me. What stands out to you?