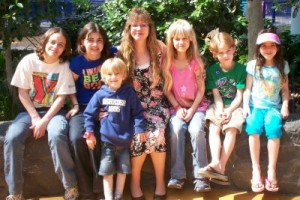 by Vyckie Bennett (Garrison)
This is a letter to those godly, dedicated Christians who know me (or know of me) from my articles and testimonies which have appeared in popular homeschool publications such as Above Rubies, An Encouraging Word, SALT, Unless the Lord, etc. ~ or who have followed news of our ever-growing family in my monthly column or in updates and prayer requests which I have posted on email groups such as MOMYS Digest, The Lord's Heritage, FARBITM, and others. I have been an advocate of godly womanhood ~ I've encouraged fellow Christian moms in their Quiverfull convictions and have done my best to lead by example in my own family.
This is a difficult letter for me to write ~ mainly because I was so convinced of, and committed to, the Biblical family ideals espoused by what has been termed the "Quiverfull" or "Biblical Patriarchy" movement. I was entirely sincere ~ and I never hesitated to do whatever I believed the Lord was asking of me, no matter the cost to my own personal comfort or convenience.
There is a great deal of heartache and drama in the story of how I came to disavow that whole lifestyle along with the Christian religion and the Bible upon which those family principles are based ~ which could make for some interesting reading if I ever actually get around to writing a book ~ but I guess what it really comes down to is this:
My children were not thriving in the isolated and controlling environment which had developed in our home as a result of following the patriarchal family structure.
I have never been much of a pragmatist ~ preferring to ground my thoughts, beliefs and actions on revealed Truth rather than following the inherently subjective standard of "whatever works." But when my oldest daughter, Angel tried to kill herself ~ I could not help but think, "I could have kids in the psych ward for a lot less effort."
I had knocked myself out for my Lord ~ following His will for my life and my family though it nearly killed me on several occasions. I had done everything according to the "Old Paths" and the "narrow way" ~ welcoming children from the Lord even though my pregnancies were horrendous and deliveries life-threatening, I homeschooled, home birthed (risky business for one who'd already had 4 c-sections), home churched, "dared to shelter" my children from worldly influences ~ I was a helpmeet to my husband in every way possible, upholding his authority to the children, supporting him even when he was clearly in the wrong, trusting that in submitting to him, I was actually submitting to the Lord and that being so, I was confident that He would work everything out for good according to His perfect will.
What I finally was forced to acknowledge is that there are limits to what is possible ~ and a lifestyle of martyrdom and self-abnegation is unsustainable. The stress took such a toll on my health that I was practically bed-ridden and in danger of suffering organ failure from lack of blood pressure since my stress-response system had been taxed to the limit and no longer produced sufficient amounts of adrenaline to keep me functioning. I felt like a zombie ~ the living dead ~ but I kept going because I could do all things through Christ and I had the Holy Spirit to strengthen me. My sincere and deeply held convictions provided the motivation I needed to live such a demanding and difficult lifestyle.
But then I met my uncle, Ron ~ and we undertook an email correspondence which changed everything for me. I'm sure many of you will remember Ron from the frequent prayer requests and updates which I posted in which I explained that my uncle is not a Christian, but I really liked him and we'd been writing to each other. I was so thoroughly convinced of the truth of Christianity ~ I had a good comprehension of the best arguments for the defense of the Biblical worldview and was an articulate apologist for the faith ~ so I was not at all concerned that my uncle's influence might in any way jeopardize my well-considered, logically consistent, readily defensible belief system.
We wrote to each other for nearly a year ~ and over time, my way of thinking began to change. For now, I won't go into all the details of how I came to doubt the Bible's authority and even the existence of a personal, all-powerful, all-knowing God ~ but by the time Ron and I discontinued our writing, the unthinkable had happened, and I was filled with doubts.
For a while, I tried to figure how much of my Christian beliefs I could salvage ~ what of the Bible message could I still claim as valid and acceptable? ~ was there a "core truth" that I could hold onto despite my rejection of the strict, literalistic interpretation which included such narrowly defined family roles? ~ but despite my almost frantic searching, I came up empty. None of it makes sense to me anymore ~ and the things which used to be beautiful and inspiring to me now seem hideous ~ petty, warped, and sick.
Anyone who's read my previous writings knows where I have been, what I've believed, practiced and taught. Here's how I see it now:
The Bible is an ancient text written in a time and culture radically different from our own. It was written by men who were privileged enough to know how to read and write ~ and it establishes a self-serving, male-dominated religion which uses the promise of Heaven and the threat of Hell to keep the disenfranchised content in their servitude. (OMG ~ I sound just like Karl Marx.)
It seems crazy that thousands of years later, we should be trying to emulate the family structure and gender roles of an ancient society which viewed women and children as property. Truthfully, I'm kind of pissed that I so willingly co-operated in my own oppression for so many years ~ I allowed myself and my children to be used to fulfill an egotistical fantasy of a man who desired to be king of his castle.
Patriarchy is a pretty sweet deal ~ for the man who gets a Proverbs 31 wife and a quiverfull of children like olive branches around his table. In that family set-up, Daddy reigns supreme. I know, I know ~ the teaching is that it's actually the Lord Jesus whom the wife and children serve when they submit to and obey the father. And when I think about it ~ that's so twisted! How convenient for the man that all this is clearly spelled out in the Word of God.
I realize that I sound like an angry feminist bitch ~ and I think to myself, "If only I could convince them that I tried my best ~ I did everything right!" Could it be that the failure is with the system, not with the burned-out and worn down women who are struggling to make it work?
The truth is, not all men are cut out for leadership in the home or church. And for those with controlling, punitive, and demanding tendencies, the practice of patriarchy in the home will only exacerbate their insatiable egos and lend an air of spiritual credence to their tyranny and abuse in the name of "protection" and spiritual covering.
The truth is, the woman who aspires to be a Proverbs 31 wife is setting herself up for failure. Often I have agonized over the overwhelming burden expressed by wives and mothers who feel they are not meeting the standard ~ they try so hard, and yet ~ there's not enough of one woman to go around. Even with the help of the older daughters, the workload is ceaseless and the demands on her time and energy are bound to leave her feeling inadequate. Must be her lack of faith. Perhaps what she needs is to read another Vision Forum book or attend an Above Rubies conference wherein she'll discover the KEY to making it all work, getting it all done.
Seriously ~ what Mothers of Many need is RELIEF ~ not another "revelation" about what truly constitutes the godly wife and mother. Not another pep-talk from Nancy to inspire her to "present her body a living sacrifice." No more visions and bible verses to load her with guilt when she somehow doesn't manage to reproduce the Garden of Eden within her godly home.
In the patriarchal world which I will no longer take part of, the Commanding Officers (the men) are forever waging war against the world and the devil. Wives and children are useful as foot soldiers and arrows in this daily battle for the Kingdom of God. Should a mother die in childbirth, she is hailed as a faithful, dedicated woman ~ hers is a martyr's death. But if she should struggle ~ if she fails to reverence her husband despite his imperfections and failures to love her as Christ loves the church ~ if she should dare complain that she's tired and overwhelmed ~ if she has a healthy self-preservation factor ~ or should she be a thinking woman who just can't manage to adorn herself with that highly prized "meek and quiet spirit" ~ then she is a rebellious Jezebel ~ a reproach on the testimony of Christ. Likewise, the children are valued only in as much as they conform to the lifestyle chosen for them by their parents. If they should express their own opinions (but where would they form dissenting opinions when all influences are controlled by their protector and provider, i.e., Daddy?) they are made to fear for their soul's salvation. It's a world in which the only way to win (to be declared a faithful servant approved by the Lord), is to lose yourself ~ lay aside all your dreams, desires, wants, needs ~ your very life ~ and do it without complaint. That's the way to win if you are a godly woman or a visionary daughter ~ for the man, it's a whole different story.
Okay ~ I have to stop. Not that I don't have plenty more to say ~ just that I know this letter sounds bitter and angry and I haven't figured a way to convey my true feelings ~ that of betrayal and of having been used and of the frustration of having adopted a worldview which systematically denied my children their very selfhood.
To my kids, I apologize. To those who have been influenced by my articles and inspired by my family's testimony ~ all I can say is … well, I actually don't know what to say. I just don't buy it anymore ~ it didn't work for our family and my children paid the price. It's one thing for me to lay my own life down in the service of God ~ but I'm no longer willing to sacrifice my children on the altar of "family values."