by Vyckie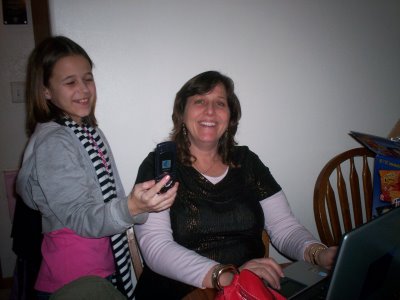 For her 13th birthday, I got Hazelle a ticket to Seattle ~ she'll be leaving tomorrow to spend Spring Break with Laura. When Laura lived here with us, she and Hazelle became pretty good friends 😉
This morning, about 5 minutes before leaving for school, Hazelle (who is a 6th grader) asked me to write a response to the letter/book report she wrote for me as a class assignment. I scribbled out a letter and she's off to school ~ here's what I wrote:
Dear Hazelle,
Thank you for the letter telling me about the book, The Giver ~ which you are reading in school.
Back when we were home schooling and attending home church, I heard about a really terrible book (worse than Harry Potter) which "they" were promoting in the public schools ~ that book was called The Giver. I published the review in our paper as a warning to other parents not to let their kids read it because they might get brainwashed into thinking that euthanasia and socialism are normal and acceptable.
I am so glad that you are in school now ~ your reading skills have improved considerably and I'm so relieved that you are able to write a book review ~ but the best part is that you can read and learn about all these ideas for yourself and form your own opinion.
Your description of
The Giver
is quite interesting ~ makes me think that I might just want to read the book myself to find out what all the controversy is about.
Love, Mom
Back in our "quivering days" (Q.D. ~ LOL), I pre-read every book before giving any of them to Angel to read. I could write an entire treatise here about the books which were on our "approved reading list" ~ the ones I liked best are the same books which I recently sold on eBay as part of my "purging" process ~ but you all really don't want to get me started writing about Elsie Dinsmore and the G.A. Henty books 😉

I realize now how limiting that policy can be ~ it ensures that the children can never know more than the parents and makes it highly unlikely that they'll get any ideas which Mom & Dad haven't already thought of. In the fundamentalist world, that degree of parental control and indoctrination is viewed as a positive thing. As Jonathan Lindvall admonishes homeschool parents in his "Bold Christian Parenting" seminars ~ true Believers must "Dare to Shelter."