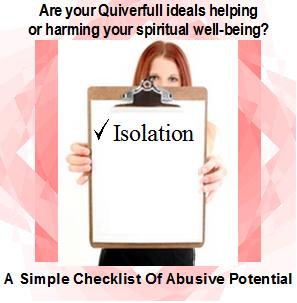 by Kristen Rosser ~ aka: KR Wordgazer
Beloved, believe not every spirit, but try the spirits whether they are of God: because many false prophets are gone out into the world. I John 4:1
Also of your own selves shall men arise, speaking perverse things, to draw away disciples after them. Acts 20:30
Stand fast therefore in the liberty wherewith Christ hath made us free, and be not entangled again with the yoke of bondage." Galatians 5:1
The above passages warn us that not every movement that says it is following Christ and His teachings, actually is. Even when there is sincere desire to follow Christ, the ways beliefs are practiced, instead of bringing healing and liberty, can bring pain and bondage. When religion hurts, it's called "spiritual abuse."
How can we tell the difference between healthy Christian practice and spiritual abuse?
Jesus said "Ye shall know them by their fruits. (Matthew 7:16)."
Galatians 5:22-23 says that out of the "liberty" spoken of in verse 1 of that chapter (quoted above), we should see the fruit of "love, joy, peace, longsuffering, gentleness, goodness, faith, meekness, temperance."
Are you being encouraged to live a life of liberty, full of the fruits of the Spirit? This series presents warning signs of spiritual abuse. One question to ask yourself is this:
Does your group or belief structure emphasize that members should keep themselves isolated or apart from the outside world, claiming it is spiritually contaminating?
Are you fearful of who you mix with and how you socialize? Do you feel free to visit other churches or groups? Do you have friends outside your own group?
Here are the kinds of warnings you might be hearing in the Quiverfull movement:
"Associating with unbelievers or with 'lukewarm' or 'lite' Christians will destroy your witness and ruin your testimony."
"Only those who love the world pollute themselves with worldliness. Garbage in, garbage out."
"Don't let the ungodly poison your mind."
"Guard your heart and your purity."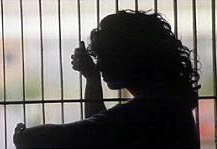 The Quiverfull home can become a place of solitary confinement.
"True believers" are encouraged to seek "like-minded" fellowship with dedicated Christians who are raising their own families according to similar practices and will, by their example, uphold principles of godly family living and encourage you and your children to continue in the lifestyle. When no like-minded families are found within existing fellowships, Quiverfull families sometimes start their own home church ~ often consisting of only their immediate family members.
Quiverfull women are challenged to seek out "Titus 2 Women" who will teach and mentor them in living out the duties of Biblical Womanhood.
But for Quiverfull women who are doing "home everything" — that is work-at-home, homeschool, home birth, home church, etc. — isolation is almost a given and often the only adult conversation available consists of cyber-friends made through online discussion lists and forums designed for fellow "moms of many" to encourage and support one another.
Here are the Scriptures that are emphasized:
"Be not deceived: evil communications corrupt good manners." I Corinthians 15:33.
"Blessed is the man that walketh not in the counsel of the ungodly, nor standeth in the way of sinners, nor sitteth in the seat of the scornful." Psalm 1:1
But is this the whole counsel of the Scriptures?
Here is what Jesus prayed for His disciples and for those who would "believe on me through their word":
"I pray not that thou shouldest take them out of the world, but that thou shouldest keep them from the evil. They are not of the world, even as I am not of the world. Sanctify them through thy truth; thy word is truth. As thou has sent me into the world, even so have I also sent them into the world." John 17:15-20. (emphasis added)
Jesus, who ate with tax collectors and prostitutes (and even with Pharisees! Luke 11:37), by no means intended by his words in John 17 that being "kept from the evil" meant isolating ourselves. Paul also said in I Corinthians 10 that he did not want the Corinthian church not to associate with "the world," because Christians are specifically not meant to "go out of the world." We are sent into the world to show the world the love of Christ.
In light of these, do Psalms 1:1 and I Corinthians 15:33 mean we are supposed to withdraw from the world and isolate ourselves from those who think differently than we do? Is this the love of Christ? Is this the freedom in which He has set us free?
The Scriptures teach rather that we are to be like the Samaritan who, when he saw someone who believed differently than he did, did not "pass by on the other side," but acted like a true neighbor, getting himself dirty by pulling the injured man from the dirt, possibly even getting blood on his clothes. Luke 10:30-37.
What the Scriptures call Christians to is not isolation from others, but simply to choose not to become "unequally yoked" according to II Corinthians 6:14. The purpose of a yoke in ancient farming practices, was to help two animals to work as one, keeping pace with one another and moving in the exact same direction. The context of I Corinthians 15:33 and Psalms 1:1 are similar: in both cases the exhortation is against choosing to move in the same direction with someone who wants to take us in another direction than the one God would want to lead us in.
But what about Quiverfull? If the direction God wants to lead us in is the same direction that Quiverfull would lead us in, then the isolation Quiverfull endorses, should bear good fruit. Does it?
The fruit that isolation bears is not the fruit of love and compassion. Separation from others keeps our ears and hearts safe from having to listen to and hear about the lives, the hurts, the needs of other human beings for whom Christ died. We can become like the priest or Levite who saw the injured man and "passed by on the other side (Luke 10:31)."
Isolation can also destroy the fruit of meekness in our lives. James 3:13-17 says that a "wise man" walks in the "meekness of wisdom" which is "pure, peaceable, gentle and easy to be intreated, full of mercy and good fruits, without partiality and without hypocrisy." But when we cease listening to those who do not think exactly like us, we stop being able to be entreated. We can become proud and puffed up in our own knowledge and forget that "if any man think that he knoweth any thing, he knoweth nothing yet as he ought to know (I Corinthians 8:1-2)." Listening to others, considering their point of view and being willing to be entreated by them, even when they are saying things we don't agree with, is the fruit of meekness– the meekness of wisdom. When we separate ourselves from others, this fruit of the Spirit is hindered in our lives.
The other parts in this series, when read together with this one, make up a checklist for spiritual abuse within the Quiverfull movement. We encourage you to read them as well.
Discuss this post on the NLQ forum!